Tile Resurfacing Kits
Do it Yourself Tile Resurfacing Kits – Resurface tile floor without removal
Tile Resurfacing Kits
If you have old, worn out and out-of-date tile surfaces that need replacing but are short on time or money, a tile resurfacing kit is a great option. Semco's tile resurfacing kits allow you to resurface your old tile flooring or tile wall surfaces in kitchens, bathrooms, living rooms and more. Our tile resurfacing kits come in a variety of finishes, colors and polishes. Don't let old, out of date and out of style tile flooring detract from your bathroom, kitchen or other tiled area any more.
The Semco tile restoration and resurfacing solution is great for both interior and exterior tile surfaces.
Simplify Your Project
Whether you are moving into a new house in Florida that you just bought or you want to refresh an existing one. Or, you may have a commercial project with tile such as in a restaurant kitchen or bathroom there is a very simple to resurface without removal. Typically, tile replacement is a dusty process that can be quite disruptive to a home or business.
In addition, it can create a variety of challenging transition areas around cabinets, base boards and similar areas. With tile resurfacing you can have a 1/8″ durable coating that can seamlessly integrate with baseboards and cabinets. It is also a dust free process.
Installation Instructions
Semco's tile resurfacing system requires a number of detailed steps to successfully complete an installation. If you are uncertain about your ability to perform these steps and/or trowel effectively we recommend hiring one of our certified installers to do the work. Semco Florida does not take responsibility for installations that are not performed correctly. By going the DIY path you agree to bear full responsibility for the project outcome.
Before Semco Tile Resurfacing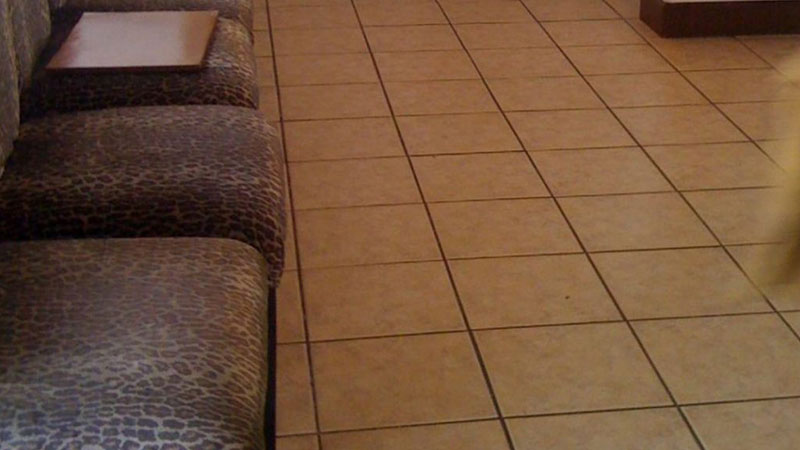 After Semco Tile Resurfacing
Are You Looking For A Better Way To Restore Your Tile Floor?
With Semco resurfacing products, you can restore and resurface your old tile without having to remove it. No demolition necessary. The Semco tile restoration solution is simply applied over the tile and you have a new surface in half the time. Semco can accommodate both interior and exterior tile flooring on patios, pools and more. The hassle and headache of retiling your bathroom, living area, patio or even office or commercial building is gone with the Semco system.  The Semco floor tile resurfacing solution comes in a variety of colors and decorative possibilities.
Integrate floor, wall and furniture finishes with the same seamless finish. Resurface bathroom floors, bathroom walls, shower tile, backsplashes, columns and more. Our tile resurfacing kits allow DIYers a way to solve problems on their projects and beautify their surfaces. Or, it gives designers a way to create their visions without adding new  challenges to their projects.
If you are handy and can follow our instructions you can install it yourself. Otherwise we have a network of certified installers who have successfully installed our products on hundreds and sometimes even thousands of projects throughout Florida.
Contact Us To Get Your Tile Resurfacing Kit
To get started on your tile resurfacing  project with a tile resurfacing kit, give us a call or fill out our contact form. Please provide information about the type of tile you plan to resurface, the size of the area you intend to resurface in square feet and your color and finish preferences.
Resurfacing for Tile, Concrete, Hardwood, Epoxy + more!
Semco Florida's solid surface solutions product line includes four distinct surface treatment systems applicable to a variety of environments and needs. Semco's Remodel Without Removal is a resurfacing product that allows you to remodel existing surfaces without having to remove the old surface material. The remodel without Removal system can resurface tile and grout, stone, wood, concrete, vinyl, epoxy and more.