Advantages of Microcement
Microcement Near Me
The Semco microcement is a decorative coating that can be applied on a multitude of vertical and horizontal surfaces

Where can microcement be applied?
The decorative solutions of microcement are infinite. That is why its uses are so varied. From microcement stairs or microcement swimming pools to furniture clad with microcement. The most common use microcement is in floors and walls of kitchens, bathrooms, and outdoor spaces such as terraces and pool areas.
Whatever the surface to be covered with microcement, our main concern is with the final result. That is why, in our desire to achieve an optimal, versatile, and quality product that lasts over time and adapts to the needs of the market, we have achieved a balance between hardness and flexibility.
This means that our microcement allows us to cover any surface, no matter how large it may be, achieving a continuous pavement without joints or fissures. In this way we avoid areas of dirt collection, thus facilitating cleaning and disinfection, helping to obtain places free of germs and bacteria.
In addition, our microcements guarantee a high abrasion and chemical resistance in the areas most exposed to traffic as well as to the most aggressive cleaning products. This has resulted in a high demand for microcement in kitchens and microcement bathrooms.
Semco Microcement
The Semco microcement is a decorative coating comprised of pulverized marble, cement, water-based resins, additives, mineral pigments and sealers that can be applied on a multitude of vertical and horizontal surfaces thanks to its amazing bond strength. This construction material stands out because it can be applied directly onto existing materials and surfaces including: tile, drywall, marble, terrazzo, stone, wood and plastics. The standard thickness is only 1/8″ making floor transitions, doorways and renovations a breeze. It is also low-VOC, non-toxic and odorless.
Cutting-Edge Seamless Cladding
This cutting-edge cladding is seamless, and works in both outdoor and indoor spaces. It is a continuous cladding that can be applied on floors, walls, stairs, ceilings, swimming pools, and even furniture. Its versatility has led to its increasing presence in the refurbishment of private homes and in commercial spaces and large surfaces such as sports centers, industrial buildings, hotels, and restaurants.
Range of Decorative Finishes
Microcement offers you a wide range of possibilities and decorative finishes, that puts you in the designer seat. Give rooms a unique and personal character thanks to the different textures, a wide variety of microcement colors; and the differing finish effects
Microcement in Kitchens
Microcement in kitchens can be used in many ways. It can cover floors and walls, ceilings, sinks and kitchen worktops in practically any color you can imagine. Coat floors, cabinet doors, backsplashes, countertops. This allows you to create a uniform look that is also easy to clean and impact resistant.
Microcement Stairs
While somewhat harder to install, microcement means can even be applied to stairs. With microcement, it is possible to design spectacular microcement stairs. You can incorporate decorative lighting and a wide range of other design features.
Microcement Pools
Unlike porous pool plasters microcement does not absorb water and chemicals. It can take higher differences in pH and is much more impact resistant. In addition, microcement offers a huge array of finishes that cannot be found in standard pools. The Diamondbrites, Pebble Tech and other marcite systems offer a limited range of finishes whereas with microcement you can create a concrete look, venetian plaster effects and much more.
high performing finish
Microcement provides a natural way to improve and integrate floors, walls, bathrooms, pools, patios balconies, spas and ceilings with one uniform finish. This is a high performing finish that creates a unique look allowing you to update tile, wood, concrete and other common substrates. if you would like to connect with one of our installers please connect with us.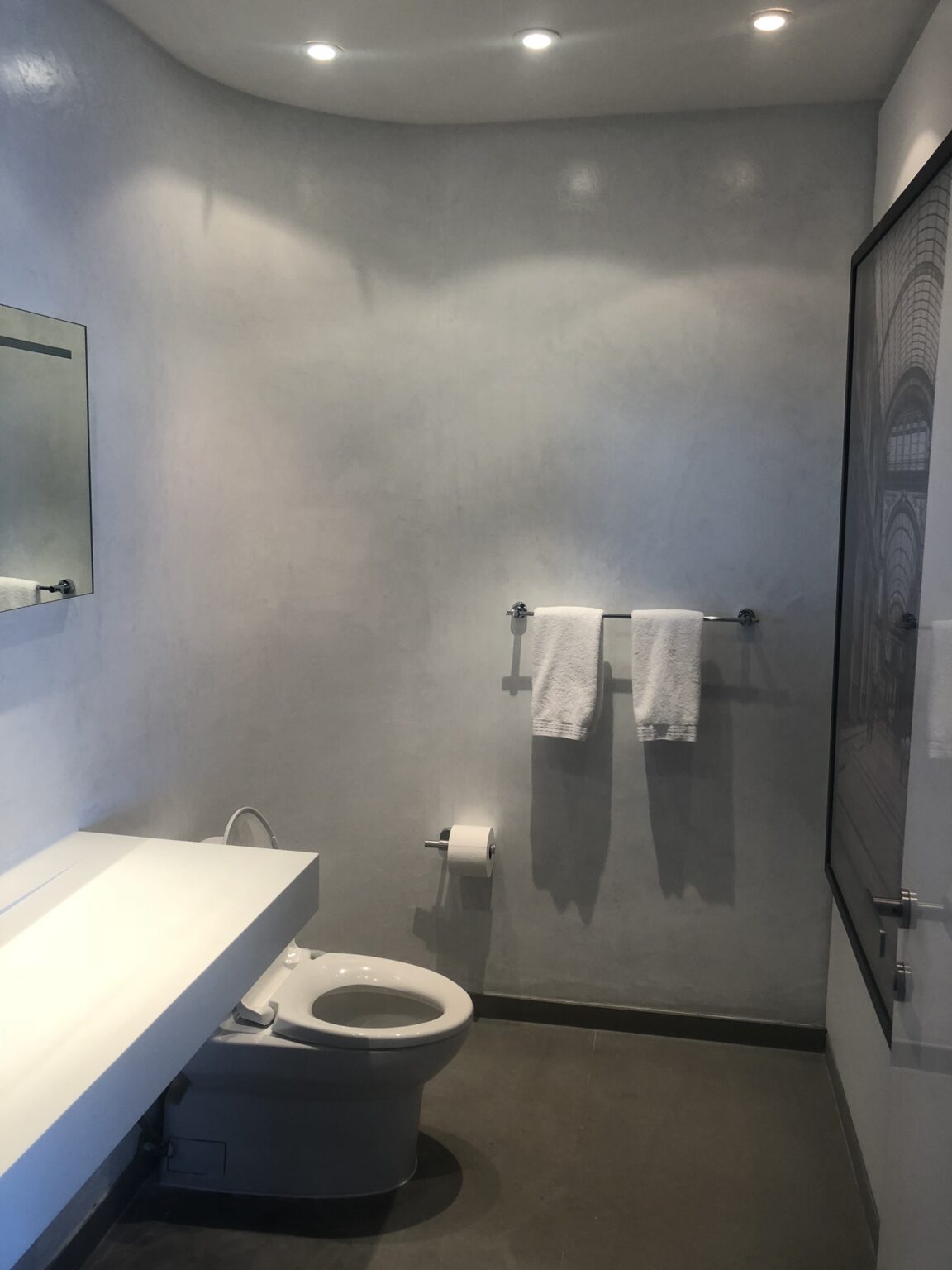 wide range of microcement colours
We have a wide range of microcement colours. The pigmentation system allows us to create any color you require, thus personalising rooms and atmospheres to achieve your own style.
White, grey, green, red, black or blue are just some of the many microcement colors available for our systems.choose the one that best suits your project here.
Outdoor microcement
Microcement is an excellent continuous coating also for exterior surfaces such as terrace floors, patios of residential houses or facades and walls of buildings. Visit our gallery or read our post and discover all the options for applying microcement on outdoors.
How
Microcement flooring & resurfacing

Works?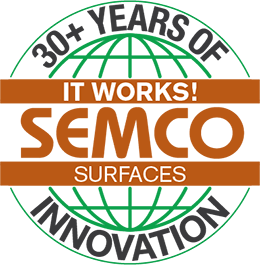 Microcement on Walls
Microcement is a highly recommended building material for covering all types of walls and facades. It can be applied to drywall, brick, stone, cement board, hardiboard, stucco and EIFS systems. Unlike stucco and other lime and portland cement based systems Semco microcement does not have to be painted and it does not react with salt in the same way. The material is troweled on and provides both waterproofing, flashing, and the ability to join vertical and horizontal surfaces together.
Microcement Floors
Continuous microcement floors are not only very attractive to look at but they also create higher performing surfaces. Microcement has no grout which which can get discolored. It also has no joints so there are no voids in which dirt can collect. It is very flexible so it can handle moving substrates without cracking. In addition, water will not damage it. If you have flooding in a space with Semco's microcement it will remain unaffected. If you create a cove up the wall then you can also protect your wall surfaces by waterproofing the bottom of them.
Microcement Bathrooms
Microcement is a perfect decorative coating for renovating bathrooms because it is easy to clean and it is unaffected by moisture. It will not grow mildew and does not have a high texture in which dirt and soap scum can collect. If you have an existing tile bathroom that you want to update you can resurface all of the tile without having to remove it first. This simplifies the installation, reduces downtime, and creates a dustless renovation project.
Advantages of Microcement
Microcement is a decorative coating that has great qualities. Here is a brief summary of the main advantages of microcement:
Multiple decorative finishes
Seamless surface
It can be applied on floors, walls, ceilings, swimming pools and furniture. Interior and exterior spaces
Wide variety of microcement colors and textures
Handcrafted application. Exclusive and personalized result
High bond strength. Bonds to tile, marble, stone, terrazzo, drywall, concrete, cement, plaster, etc
Resistant to traffic, knocks, scratches and chemical products
Waterproof
Anti-slip, depending on finishes
Quick and dust free
Material thickness 1/8″ and it can be thicker if needed (up to 6″)
Natural materials. 100% environmentally friendly and low VOC product
Easy maintenance and cleaning; with water and neutral pH soap
Germ and bacteria free spaces
What is the abrasion resistance and hardness of microcement?
The Semco microcement can be used in high traffic applications. It has been tested above 5,000 psi. It also has excellent abrasion resistance. Some of its uses have even been in municipal fire truck bays and in airplane hangars.
What is the slip resistance of microcement?
Microcement slip resistance depends on the material mix used, the finish and texture applied and the type of sealer used.
Microcement can be as smooth as glass or highly textured, for use in wet areas like pool decks, exterior walkways and exterior stairs. Depending on the type of microcement and texture, a greater or lesser slip resistance (degree of slipperiness) is achieved.
Floors are classified according to their slip resistance value. The most updated tests used in the United States are ANSI 137.1-2017 and ANSI A326.3 which refer to the dynamic coefficient of friction, or, DCOF. The minimum DCOF must be 0.42 or higher in wet areas. Semco's microcement can be as high as 0.58.
The anti-slip characteristics of the surface and the difficulty of cleaning must be considered. The greater the slip resistance, the more difficult it is to clean the surface due to the textured surface.
Can microcement be applied over underfloor heating?
Yes, it can. There are numerous details to be considered during installation. It is critical to consult a certified Semco microcement applicator.
Is microcement waterproof?
Unlike most microcements Semco is waterproof. Perhaps most notably, it has successfully been used in the Las Vegas Bellagio fountain for over 25 years. The Semco microcement has been applied in sinks, shower pans, hot tubs bathtubs, in pools and in fountains.
In addition to the Semco microcement our Liquid Membrane is often used underneath it to provide a primary flexible waterproofing to be used in conjunction with the microcement.
What are the differences between microcement and polished concrete?
Although the aesthetic finish may be similar, they are not the same. With microcement you get more advantages:
Faster and easier to apply.
No machinery or heavy tools are needed for installation.
Less work. Less cost. Less time.
Lighter, so no structural loads.
Use in any room, not just ground floors.
No joints required, and no cracks appear when dry.
It can be applied on both horizontal and vertical surfaces.
Information
Differences between Microcement and polished cement (trowelled concrete) for paving in terms of components
A distinction must be made between, cement, cement mortar, and concrete.cement is a component of both mortar and concrete that acts as a binder. Mortar is obtained by mixing sand and water with cement and concrete is a cement mortar to which gravel is added.
Although they are all solutions for creating pavements, in the case of microcement it is continuous and in the case of polished cement, printed concrete or trowelled concrete it is discontinuous (requiring expansion joints).
Concrete
Both polished concrete and printed concrete, as well as trowelled concrete, consist of a reinforced concrete slab with a surface treatment applied to achieve the final finish. They are discontinuous pavements, and as they are slabs, expansion joints are required to prevent cracking.
On what substrates can microcement be applied?
Microcement can be applied on almost any type of solid substrate: cement mortar, self-levelling mortar, terrazzo, marble, travertine, tile, plaster, drywall, cement board hardiboard or exterior sheathing. Microcement can also be applied on vertical and horizontal surfaces and in interior and exterior spaces. This allows you to apply microcement on stairs, bathrooms, kitchens, balconies, roof decks, pool decks and swimming pools.
Unlike other microcements, the Semco microcement can be applied on plywood and other wood structures provided they are properly fastened to their substrate.
The Semco microcement has an incredibly strong bond to its substrate. Thanks to this, it is possible to apply microcement on tiles, speeding up renovations and avoiding the removal of the original substrate. As long as the tiles are properly adhered to the tile bed our microcement will offer a successful resurfacing instalation. Unlike other microcements, Semco's microcement does not require the use of mesh to provide a successful bond.
The preparation of the substrate is as important as the application of our microcement. If the substrate is not clean and solid, the microcement will bond but a long term installation cannot be guaranteed.
If the substrate on which the microcement is to be applied is a mortar, it must have set for at least four weeks before applying the microcement, in order to control any cracks that may appear during the curing process.
Our microcement can be applied inside swimming pools, fountains and other permanently submerged applications. Microcement swimming pools are a growing trend and will continue to be so due to the many advantages of this decorative coating. Microcement pools are more chemical resistant, offer more decorative colors and are more durable than conventional marcite pools.
How long does a renovation with microcement last?
As microcement adheres to the existing material, there is no need for building work, so microcement work can be carried out in a very short time: between three and five days. On the other hand, the application of microcement on floors increases this period up to one week.
Information
This is a coating that is worked with a pre-conditioning of the surface, a application of the material in different layers, and a final protection with sealer.
Each layer of material has its own application and drying time. In addition, special care must be taken during the first week (once the work has been completed) as it gradually acquires its full hardness and resistance.
Do I need to brush the doors?
No, it is not necessary. The microcement will be built up on the surface to a thickness of 1 to 3 mm. Normally the clearance between the doors and the floor is 5 mm, so there is enough clearance to avoid having to plane the doors.
Can microcement lose colour over time?
In Topciment, microcement manufacturers , we have a wide range of microcement colours to cover any type of surface. However, can microcement lose colour over time? No, our microcement colours behave in a stable way, without suffering alterations over time and without being affected by the weather.
Why might there be differences in brightness between the sample and the work being performed?
The application of microcement is a craft, factors such as the material load or the roller used in the sealing process mean that there may be small differences in gloss between the sample and the work. . The catalogues are sealed with a roller, if the sealing is done with a spray gun, a slightly higher gloss is achieved.
Can colours be combined on the same surface?
The application of microcement is a craft, factors such as the material load or the roller used in the sealing process mean that there may be small differences in gloss between the sample and the work. . The catalogues are sealed with a roller, if the sealing is done with a spray gun, a slightly higher gloss is achieved.
Is it compulsory to apply the microcement mesh?
We always recommend applying fibre mesh, especially on tiled floors and walls, as well as in the joints between plasterboard panels, it is used to reinforce the microcement base and prevent cracks due to stresses in the microcement substrate. The final decision on whether to use it or not is up to the applicator, of course, but if they do not add it, warn them of the problems that may arise.
What drying time should we allow between the first coat of sealer and the second coat?
The drying time between coats of sealer or varnish will depend on several factors. For example, the weather conditions, the relative humidity, the ambient temperature of the room, whether it is an enclosed and humid space such as a bathroom, whether the sun has a direct impact on the room, etc.
In any case, we will always try in all circumstances to allow as much drying time as possible between coats to prevent white stains from forming because the surface is still damp. The minimum drying time between coats is 4 hours for Presealer and 24 hours for Topsealer.
How much does microcement cost per m2?
The price of microcement varies depending on many factors. Only a professional applicator of this decorative coating can give an accurate price per square metre of this coating.
The travel time of the professionals, the type of microcement selected and the substrate on which the microcement is to be applied are some of the factors that will determine the price per square metre of microcement.
How can I sign up for a microcement course
Are you a professional and would like to train in the application of microcement? We can help you. Visit our Microcement training courses website and discover our extensive programme.
On it you will find all the information you need about each course: the knowledge you will learn, its duration and price, where it takes place, who teaches it, etc.
If you need more information before making your decision, please do not hesitate to call us by phone or complete our form and we will be happy to help you.
Can microcement be applied at low temperatures?
Microcement is a coating that tolerates low temperatures once in place thanks to the use of a protective varnish. However, care must be taken when applying this material in the winter season. In this sense, and to avoid possible whitish stains, fissures and cracks, it is necessary to heat the work area (20-25ºC) to obtain an optimum result.
Can microcement be applied in very hot weather?
Just as in winter, in the summer season a series of precautions must be taken if work is carried out with this material. Although it is a coating that resists perfectly, once applied, to the sun's rays. A resistance to UV light has expanded the bet of projects with microcement in outdoor spaces such as terraces and swimming pools.
In summer, avoid applying microcement in the central hours of the day and in the afternoon. Time slots in which the support is very hot and, if the material is placed, it could contract and expand the surface. During the rest of the day there is no problem.
Resurfacing for Tile, Concrete, Hardwood, Epoxy + more!
Semco Florida's solid surface solutions product line includes four distinct surface treatment systems applicable to a variety of environments and needs. Semco's Remodel Without Removal is a resurfacing product that allows you to remodel existing surfaces without having to remove the old surface material. The remodel without Removal system can resurface tile and grout, stone, wood, concrete, vinyl, epoxy and more.