Concrete & Tile Resurfacing
Liquid Waterproofing Membrane
Bathroom Tile Resurfacing
Decorative Concrete Resurfacing
Welcome To
SEMCO Florida

Surface Solutions

SEMCO FL surface solutions offers a simple way to revitalize and resurface tile, concrete or any existing surface!
Make Old Surfaces Look NEW using SEMCO's
Microcement
If you're tired of that old tile wall and don't want to go through the hassle of removing, replacing, or painting, resurfacing is the best way to cover wall tiles. Tile resurfacing involves applying a resurfacing compound called a Microcement over the tile. The resurfacing material is easily applied and usually comes in various surface texture finishes and colors to meet your design needs. The Semco Remodel Without Removal™ resurfacing system is an excellent choice if you want to resurface your wall tile.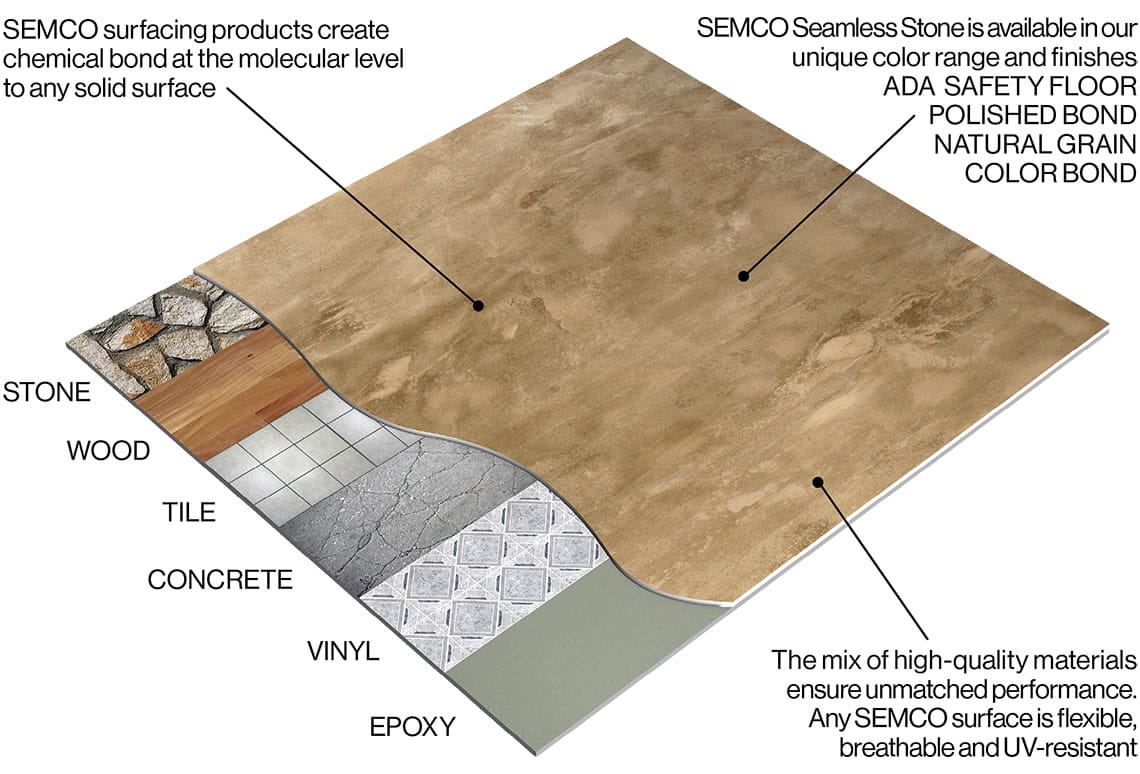 It even works on floor tile too.
The Semco system creates a molecular bond with the tile surface, creating a strong, durable, and beautiful new decorative wall or floor.
No Demolition!
With Semco resurfacing products, you can restore and resurface your old tile without having to remove it. No demolition is necessary. The Semco tile restoration solution is simply applied over the tile and you have a new surface in half the time. Semco can accommodate both interior and exterior tile flooring on patios, pools and more. The hassle and headache of retiling your bathroom, living area, patio or even office or commercial building is gone with the Semco system.
We hope you'll entrust us with your…
Tile, Concrete, Walls, Pool Decks and more, for all your Resurfacing Project needs! You Will Not Be Disappointed!
Our
Featured

Services

Semco Florida is Florida's source for Semco's industry-leading surface solutions and resurfacing products for Concrete and Tile Resurfacing. With a broad range of applications and surface treatment systems, Semco Florida surfacing solutions are used by thousands of residential and commercial customers worldwide. The durability, ease of installation, and the ability to apply to both interior and exterior surfaces make Semco the go to option for concrete resurfacing and other resurfacing projects big and small, including world-class resorts, municipal applications, public school play yards, historical monuments, offices, and residential homes.

Semco Florida proudly serves Miami, Ft. Lauderdale, West Palm Beach, and Florida. Contact us today to find a Semco contractor near you.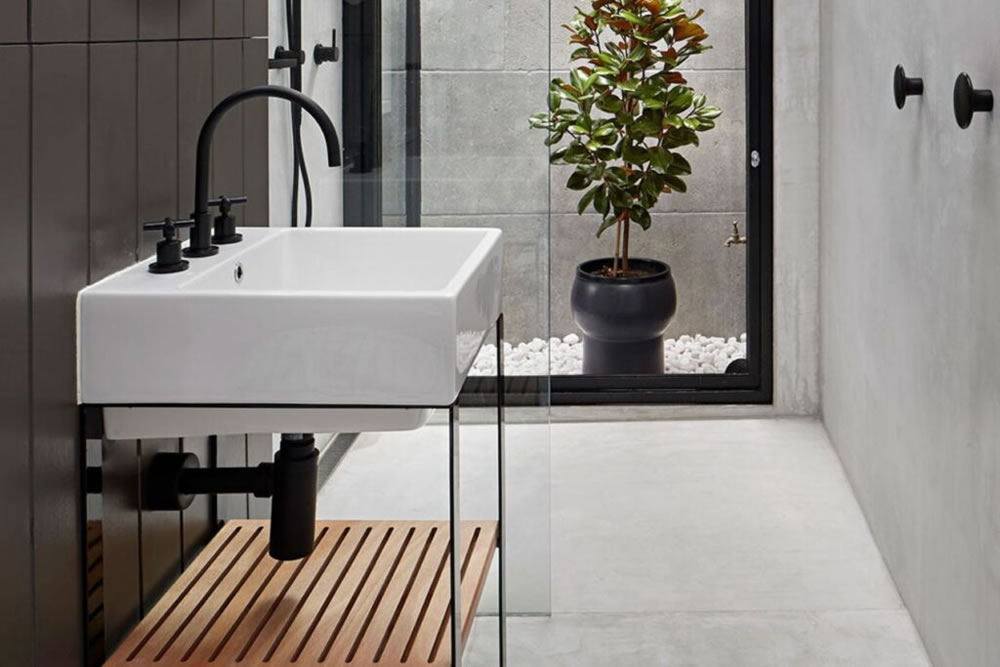 X – BOND SEAMLESS STONE
Semco's X-Bond seamless stone is a zero VOC (zero Volatile Organic Compounds) hybrid of solid stone solid surface solution that gives a sleek, clean seamless stone aesthetic.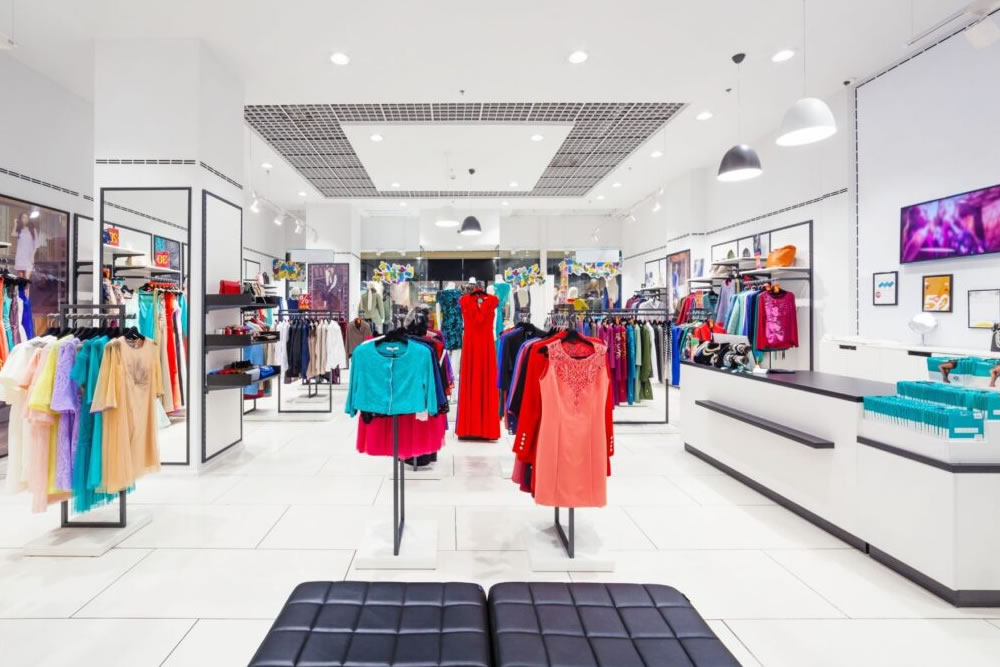 Remodel Without Removal™
Semco's Microcement is uniquely capable of being applied over existing intact surfaces without the requirement for demolition. Great for concrete and tile resurfacing.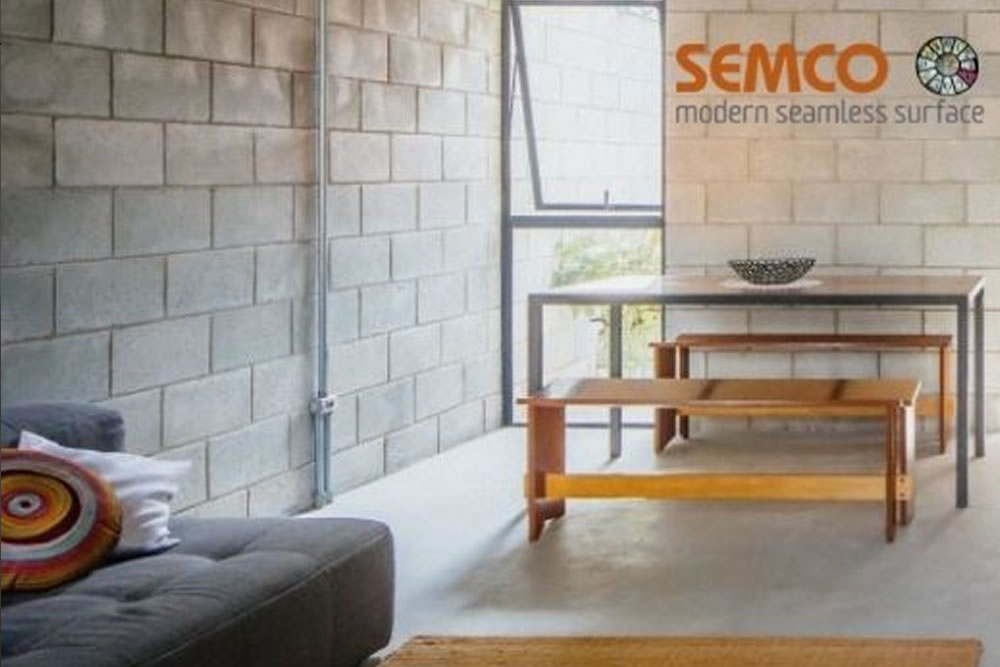 CLEAN | COLOR | SEAL
The SEMCO Clean | Color | Seal surface care systems are designed to provide powerful surface cleaning, coloring, and sealing for any solid surface. Very easy to use for concrete and tile resurfacing.
We Do it all
SEMCO Resurfacing Solutions
Click on any resurfacing solution image below to learn more.
Where It Goes
The Semco resurfacing products are a great option for a wide variety of spaces and projects. Our solutions can be used in residential and commercial bathrooms, driveways and garages, exterior walkways, pool decks, roof decks, exterior facades, interior walls and stairs. 
What It Can Do
The Semco solution can be used for waterproofing, ADA safety flooring, eco-friendly remodeling projects, decorative concrete, concrete resurfacing, tile and hardwood overlays, and concrete crack repair.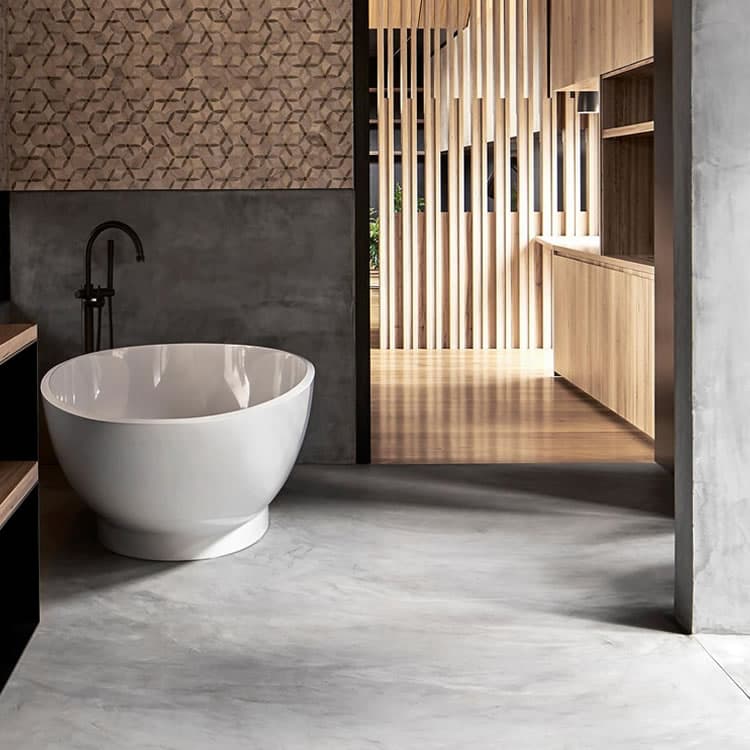 Microcement For Contractors
SEMCO Tile Resurfacing Solutions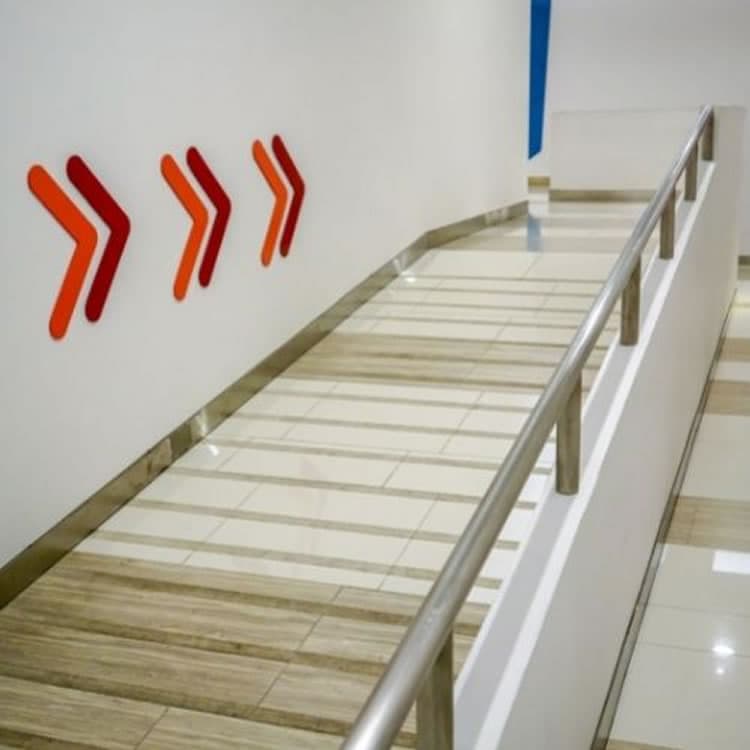 ADA Compliant Flooring
Create Friction, Build Ramps, Fill Holes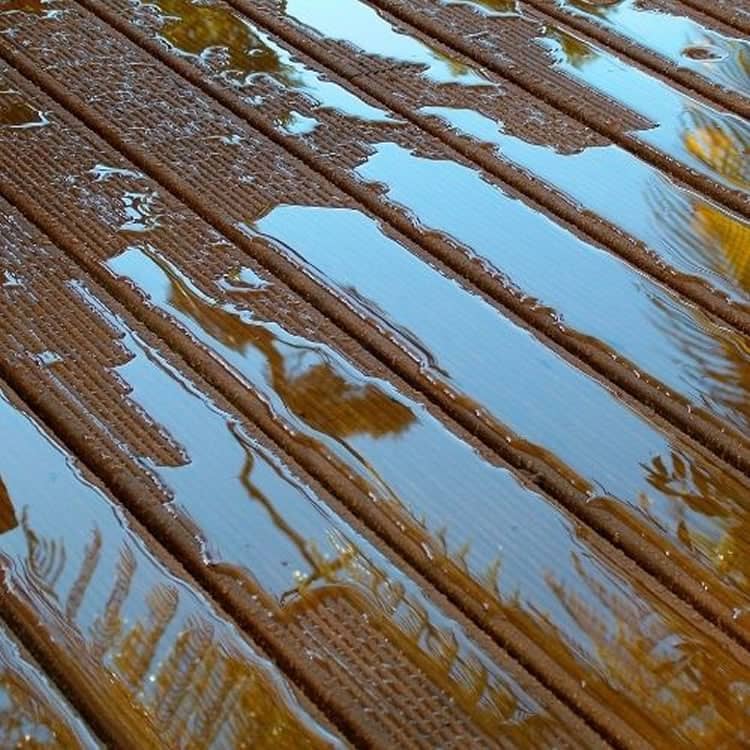 Waterproofing Solutions
Waterproof, Eliminate Water Damage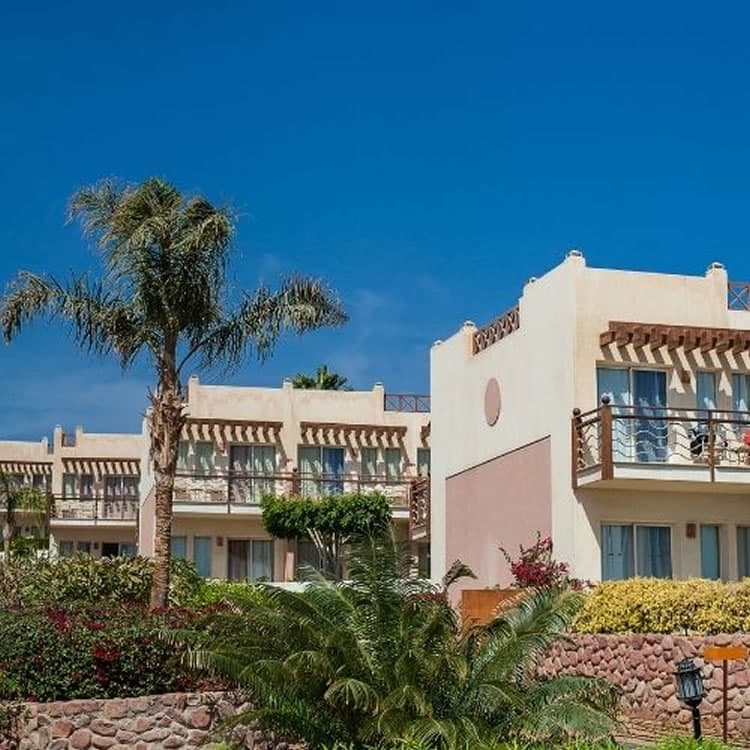 Concrete Finishes New Construction
Created Any Aesthetic On Any Surface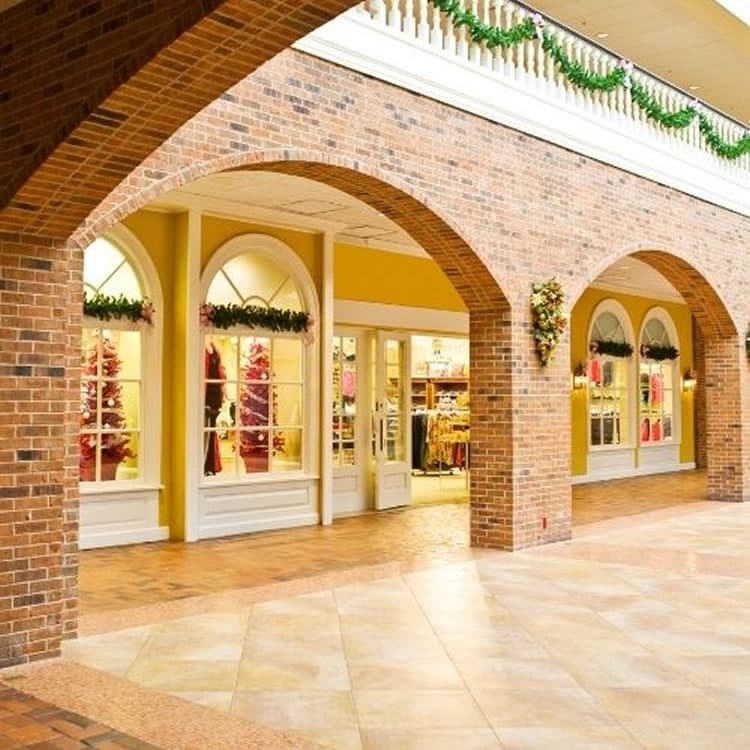 Decorative Concrete
Upgrade And Enhance Surfaces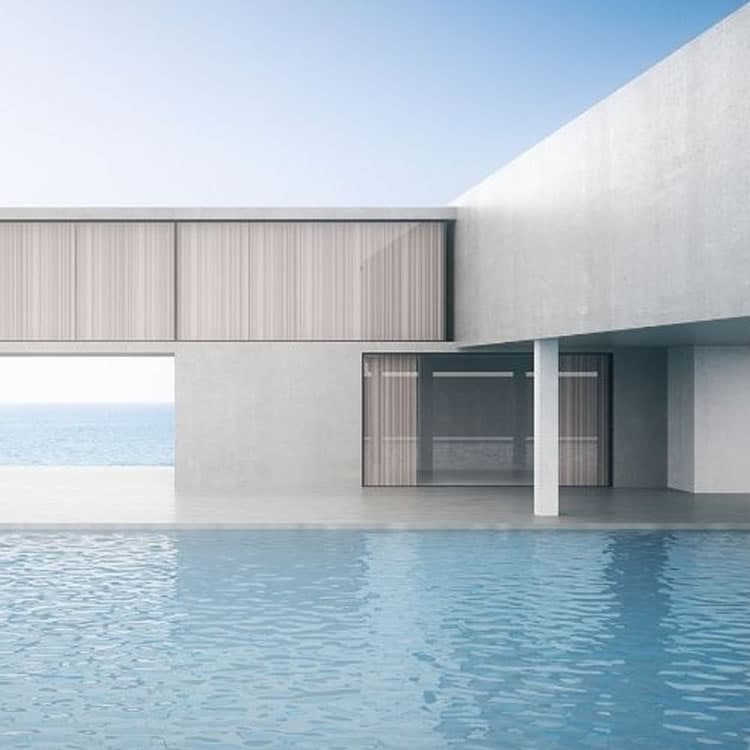 Facade
Resurfacing
Crack-Resistant, Waterproof, Beautiful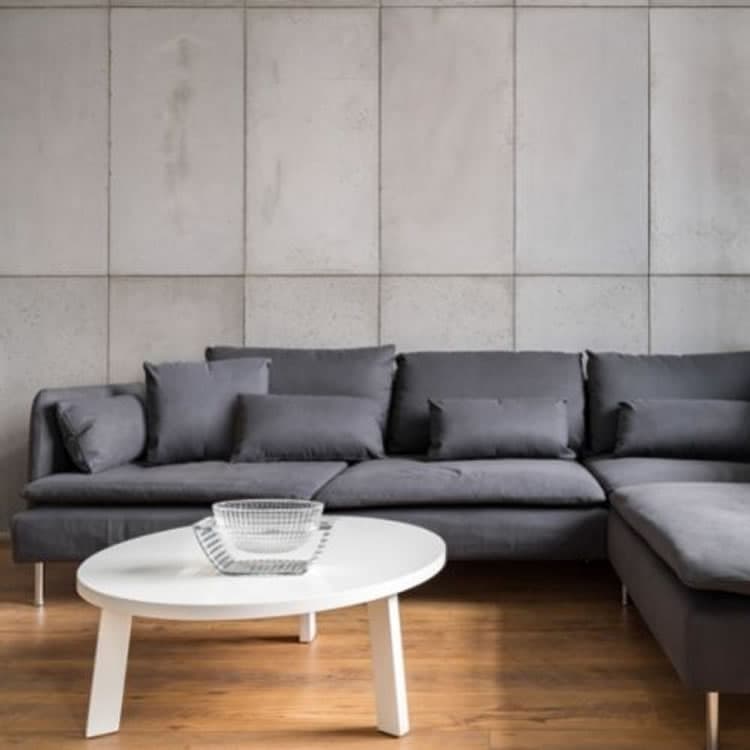 Concrete Wall Finishes
Crack-Resistant, Beautiful, Rinse Clean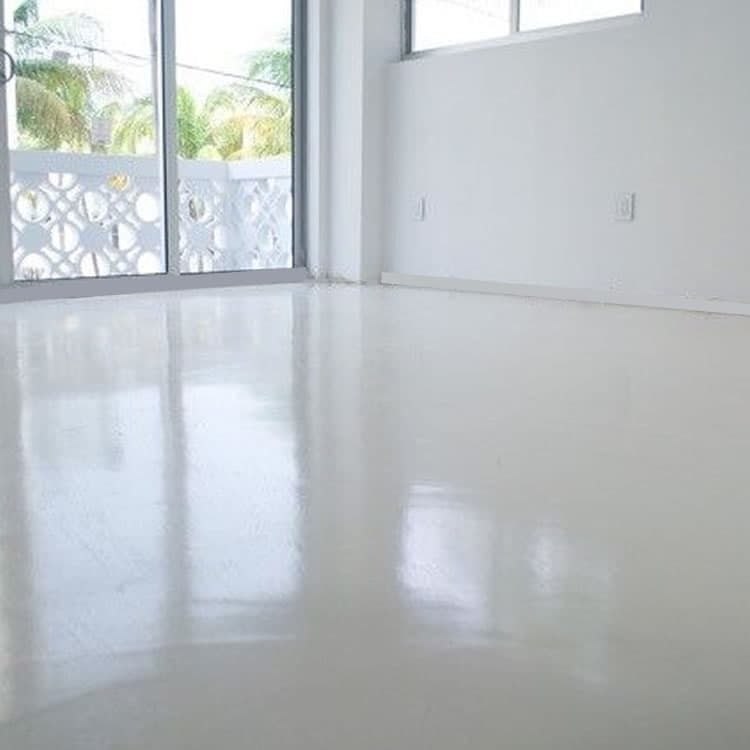 Interior Floor Resurfacing
Low-Maintenance, Beautiful, Long-Lasting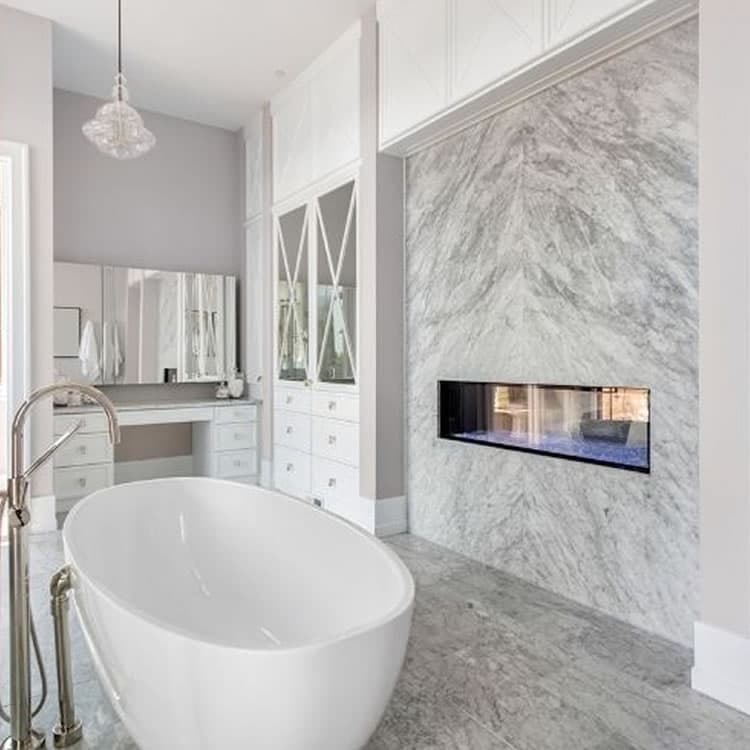 Bathroom Resurfacing
Rinse Clean, Beautiful, Non-Slip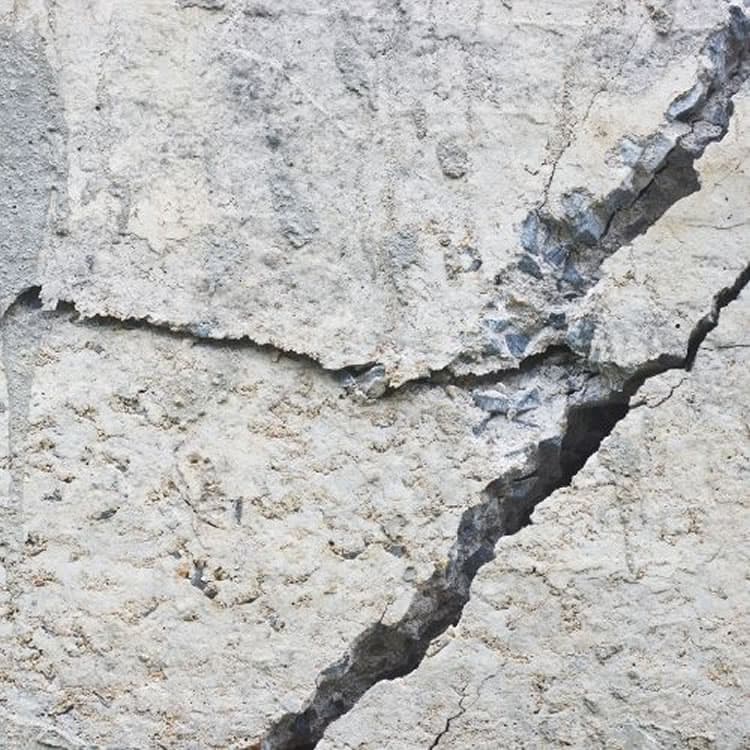 Concrete Crack
Repair
Crack-Resistant, Waterproof, Beautiful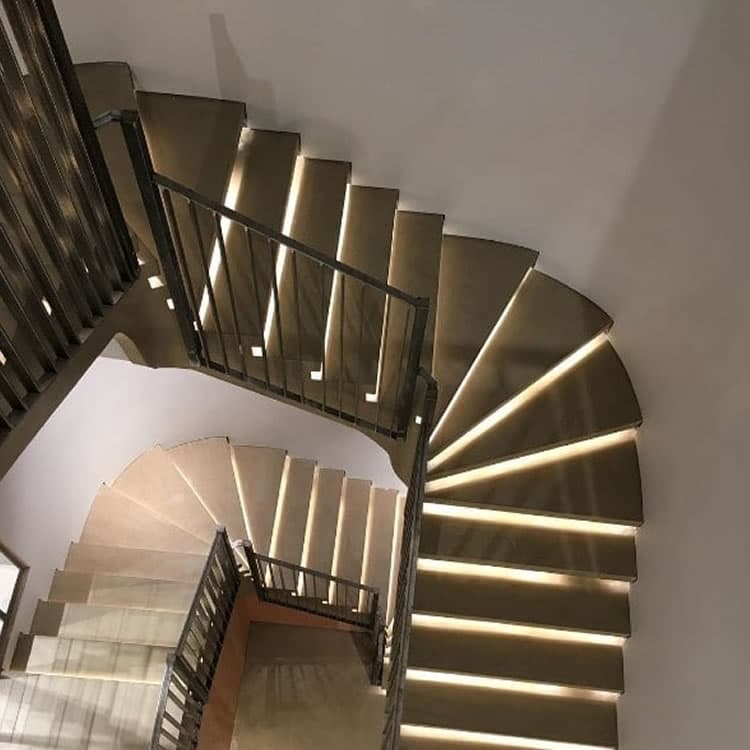 Stairs
Resurfacing
Slip-Resistance, Long-Lasting, Beautiful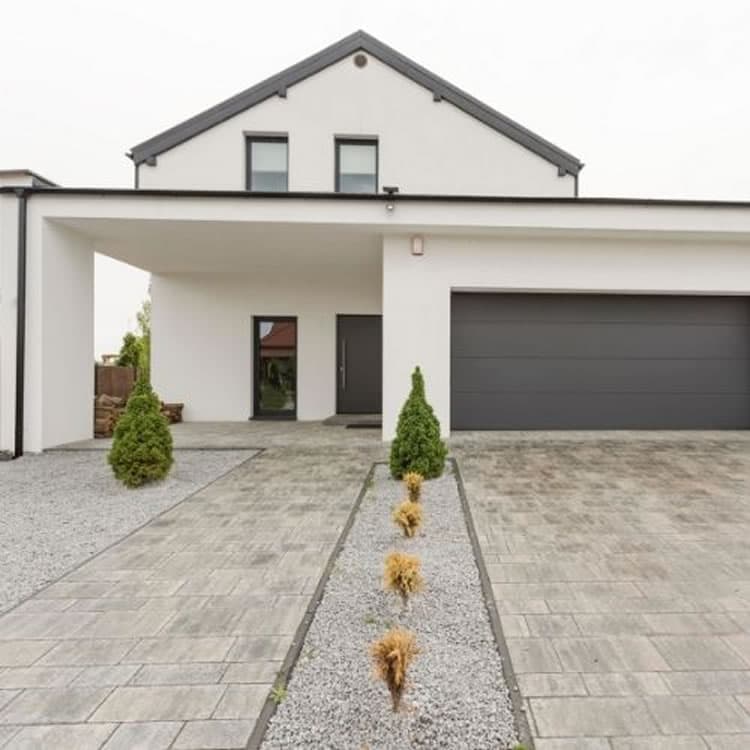 Driveway Resurfacing
Beautiful, Slip-Resistance, Long-Lasting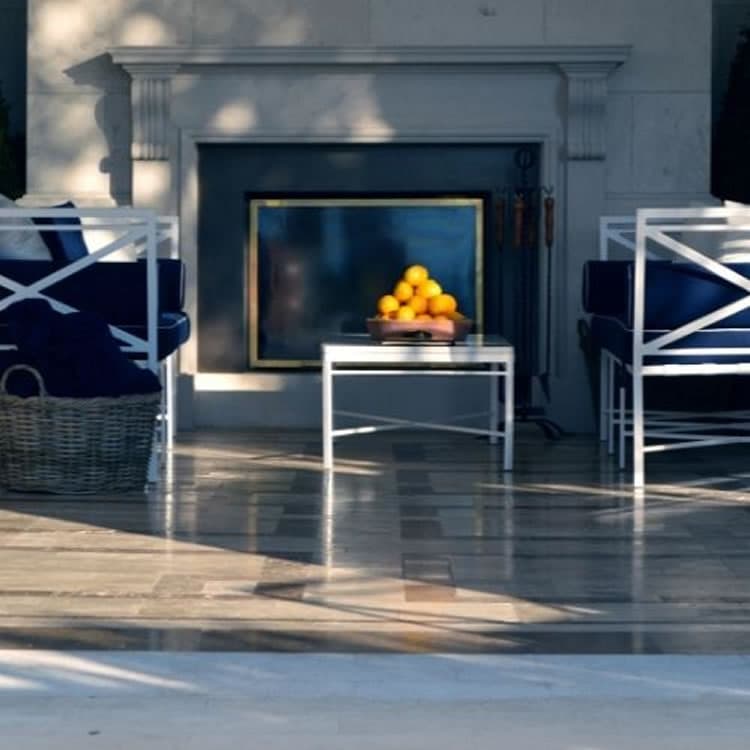 Exterior Walkway Resurfacing
Durable, Crack-Free, Beautiful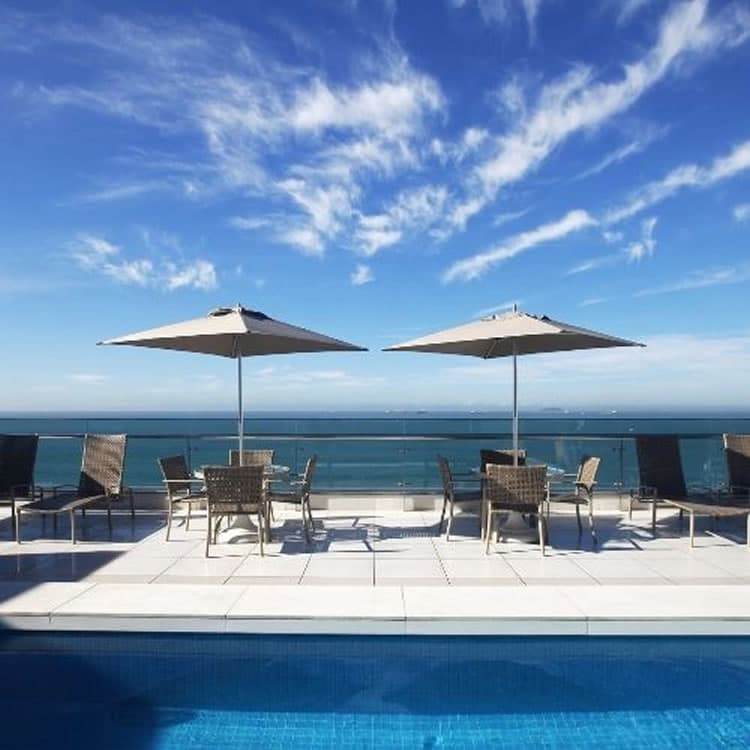 Roof Decks Resurfacing
Non-Slip, Waterproof, Rinse Clean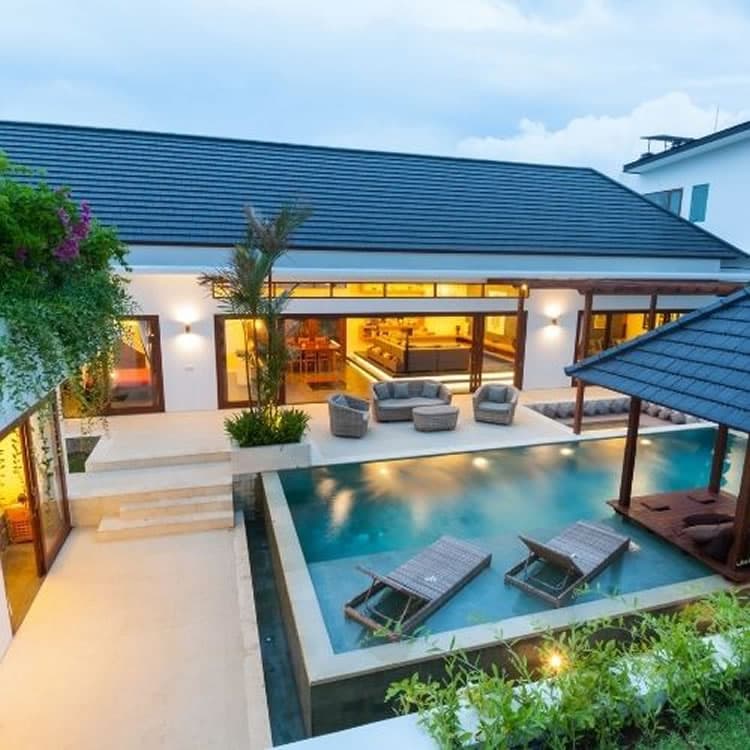 Pool Deck Resurfacing
Slip-resistant, Low-Maintenance, Beautiful
Tile Resurfacing Example: IT'S THIS EASY!
Step 2
Rolling Primer And Applying Scratch Coat
Step 3
Grout Line Cover-Up
Step 4
The Finish with Microcement
Before & After
//

"How To" FAQ's
Wall tile removal power tool
The best power tool to use is a Pneumatic air impact hammer with a chisel bit. If you have to remove a lot of tile be sure to get a compressor with a large air volume capacity. This way you won't have to constantly be waiting for the compressor to fill up when you drain the air out of it.
How to remove shower tile without damaging wall
When removing tile or stone from a shower wall resist the urge to smash through it with a sledge hammer or other blunt instrument. While this can be satisfying there can be pipes behind and it creates a lot of extra work when the wall has to be rebuilt. First make sure you protect the area below. If you have a tub make sure the sharp shards of tile do not damage the surface. A thick drop cloth will do the job. Next, cut or scrape into a grout line to access the back side of the tile. It may be easiest to start at an outside corner and work your way in. If you start to have success then slowly work your way into the middle. If your bathroom was installed correctly there should be a rigid surface behind the tile like hardiboard or cement board. This will give you a good substrate to be able to pry against. If the grout is holding the tile in place you can use a heat gun or hair dryer to soften the grout. If you do damage parts of the wall it can always be filled with a compound but it does add to material and labor cost and time to do this
Removing wall tile tool
The best tools for removing wall tile are:
Heat gun for softening grout
Small pry bar
Flat head screw driver
Chisel and hammer
Oscillating saw
Angle grinder with tile blade or Dremel tool with tile cutter
Sledgehammer (if you aren't concerned about damaging the wall)
Pneumatic hammer with chisel bit
Fix loose tile without removing
The first thing to consider when you have a tile pop out is what actually caused this to happen. If it was just time and/or poor workmanship then a standard remedy will work. If the tile is popping due to water issues then be sure to check you don't have a leak behind your wall or under your floor. You can do this by checking your water meter when everything is shut off. If moisture is not the issue then there is a simple fix. Drill into the grout around the hollow tile so that you can get a large enough hole to inject an adhesive in. There are numerous manufacturers including Fix-A-Floor that sell an adhesive that you can inject into the hole so that you can adhere the tile without removing it.
How to remove wall tiles intact
Sometimes when you remove tile you actually want to prevent damaging it as you take it off. The first step is to remove the grout between the tiles. This can be done with a tile rake, or, if you have a steady hand, with an angle grinder. Carefully choose the first tile to pry free as this one will probably be the most challenging. Look for the corner that appears to be most available for prying. Using a chisel or flat head screw driver gently pry the tile free as you work your way around the tile. Try not to force the chisel in by being too eager with the hammer. Most importantly, be ready for the tile to fall. Either have a place for it to go or use tape so that once it becomes loose it is hanging on the wall by the tape that is stuck to adjacent areas.
Floors, Walls, Decks & Tile Resurfacing Videos
Resurfacing for Tile, Concrete, Hardwood, Epoxy + more!
Semco Florida's solid surface solutions product line includes four distinct surface treatment systems applicable to a variety of environments and needs. Semco's Remodel Without Removal is a resurfacing product that allows you to remodel existing surfaces without having to remove the old surface material. The remodel without Removal system can resurface tile and grout, stone, wood, concrete, vinyl, epoxy and more.
INNOVATION DRIVEN SURFACE SOLUTIONS
Who is SEMCO FL?
SEMCO Modern Seamless Surface is an innovation-driven surface engineering company. We specialize in the creation of surfacing products for floors, walls, decks and waterproofing. SEMCO is known for its ability to design, create, and deliver customized surface solutions for clients and projects of all sizes, worldwide. Each of our custom projects ensures lasting durability, waterproofing, and proper ADA safety compliance.
SEMCO FL has provided materials and installations for major hospitality, industrial, commercial, public and residential projects throughout the state of Florida.
Tag Cloud: flooring contractors near me, tile companies near me, tile resurfacing near me, tile floor resurfacing near me, waterproofing membrane , liquid waterproofing membrane, bathroom tile repair near me, tile repair near me, tile grout repair service near me, best waterproofing for concrete block, concrete block waterproofing, waterproof plywood, how to waterproof plywood, waterproof wood, concrete resurfacing near me, concrete resurfacer near me, flooring companies near me, floor repair companies near me, flooring installation companies near me, epoxy flooring near me, decorative concrete resurfacing, basement waterproofing near me, basement waterproofing diy, waterproofing membrane, waterproof paint for basement walls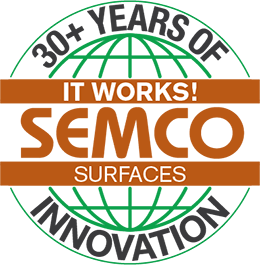 Redefining the art of surface creativity for over 30 years using GREEN Environment Safe materials.
Ready to take your resurfacing needs a step further?
Let's start talking about your project or idea and find out how we can help you.