Semco's Resurfacing Products Overview
Resurfacing Products for Tile, Concrete and More
MICROCEMENT
Microcement is a decorative coating comprised of pulverized marble, cement, water-based resins, additives, mineral pigments and sealers that can be applied on a multitude of vertical and horizontal surfaces thanks to its amazing bond strength. It can be applied directly onto existing materials and surfaces including: tile, drywall, marble, terrazzo, stone, wood and plastics.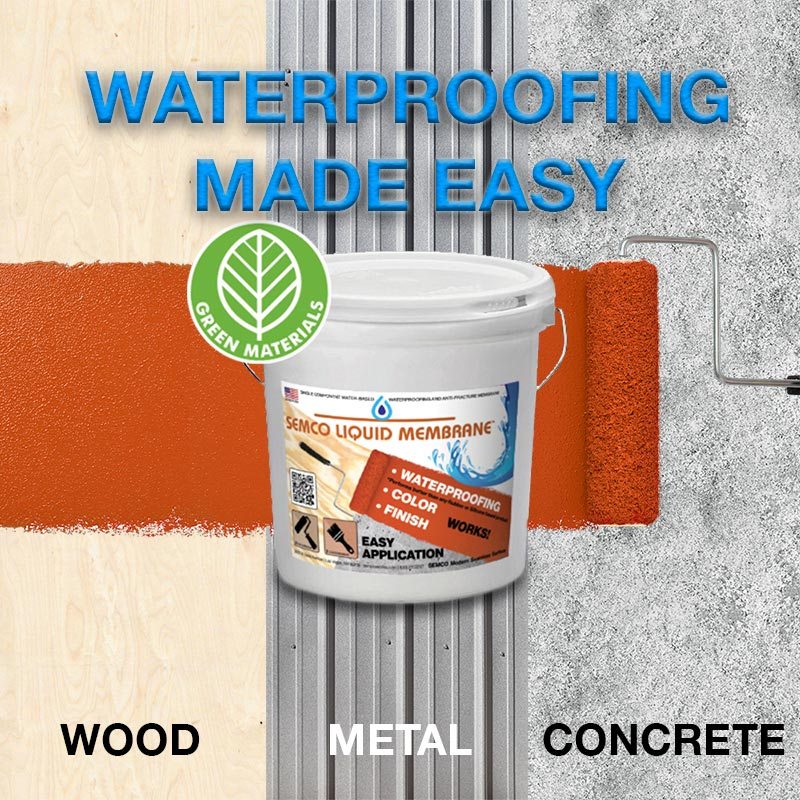 Liquid Membrane™ Waterproofing Membrane
The SEMCO Liquid Membrane™ is a single-component water-based waterproofing and anti-fracture membrane. It is a self-contained elastomeric fluid suspended in a copolymer adhesive, this revolutionary blend enables easy application while providing excellent bridging, and waterproofing. Best Waterproofing Products for Wood, Metal and Concrete.
Easy to apply professional-grade waterproofing!
X-BOND SEAMLESS STONE
X-Bond Seamless stone is the most innovative resurfacing product on the market. Designed to adhere to all types of surfaces, X-Bond Seamless Stone is the main material of the SEMCO Remodel Without Removal and ADA Safety Floor surface treatment systems.
REMODEL WITHOUT REMOVAL™
SEMCO's Remodel Without Removal surface treatment system allows you to resurface almost any solid surface without the hassle, headache, expense and waste of removing the old surface. Remodel Without Removal can resurface and cover tile, concrete, hardwood, stone, vinyl, epoxy and more. Remodel without removal is suited for concrete resurfacing and floor tile resurfacing. The system can act as a concrete overlay for bathroom floor tiles and other areas. 
ADA SAFETY FLOOR
SEMCO's ADA Safety Floor is the culmination of over a decade of field tests and engineering. The ADA Safety Floor resurfacing product is designed for projects that require ADA compliance in key areas of slip resistance, surface slope regrading and surface aperture closure.
CLEAN | COLOR | SEAL
The CLEAN | COLOR | SEAL surface treatment system is a great way to make any existing surface look like new. Great for decorative concrete needs and waterproofing applications and decorative resurfacing.
We offer a wide range of individual resurfacing products and surface treatment systems designed to clean, resurface, color and seal protect almost any solid surface.
Whether you need to resurface an old concrete driveway, a bathroom tile floor or an entire building, Semco's line of floor resurfacing products and surface treatment systems are designed to get the job done. From concrete resurfacing and concrete overlays to seamless stone and ADA Floor, Semco has a product for you. Semco's products were created with sustainability in mind and offer an environmentally friendly and cost saving solution to surfacing challenges Serving the State of Florida, West Palm Beach, Miami and Ft. Lauderdale. Check out each product below to learn more about how they can help you with your project.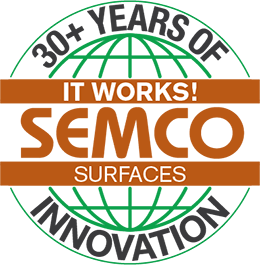 Resurfacing for Tile, Concrete, Hardwood, Epoxy + more!
Semco Florida's solid surface solutions product line includes four distinct surface treatment systems applicable to a variety of environments and needs. Semco's Remodel Without Removal is a resurfacing product that allows you to remodel existing surfaces without having to remove the old surface material. The remodel without Removal system can resurface tile and grout, stone, wood, concrete, vinyl, epoxy and more.