Tile Resurfacing And Restoration
Restore and Resurface old Tile Without Removal.
Tile Resurfacing And Restoration
Are you letting old, stained or out of date tile flooring ruin your interior décor? We don't blame you. Replacing old tile floors can be a real hassle and really expensive. There is the cost of removing the old tile; the dust, the dirt, the hammering the drilling. Then the cost of disposal. And once you do finally decide on the type of tile you want, there is the days long process of laying the mortar, setting the tiles and applying the grout, all of which means that your area is off limits for a considerable amount of time. New tile can create a variety of issues with transitions to doorways, cabinets and you will have to remove any moldings. And the bigger the surface that needs to be retiled, the bigger the headache. New tile still requires regular grout cleaning and tile repair is tricky if you can't find another identical piece. In order to avoid having to remove and then retile their flooring, many people simply try to hide old and ugly tile under rugs or use tile refinishing kits or paint to try to obscure ugly and old tile. These solutions only go so far, and they rarely last. Consider tile resurfacing instead. Check out our available finishes and colors.
The Semco tile restoration and resurfacing solution is great for both interior and exterior tile surfaces.
Before Semco Tile Resurfacing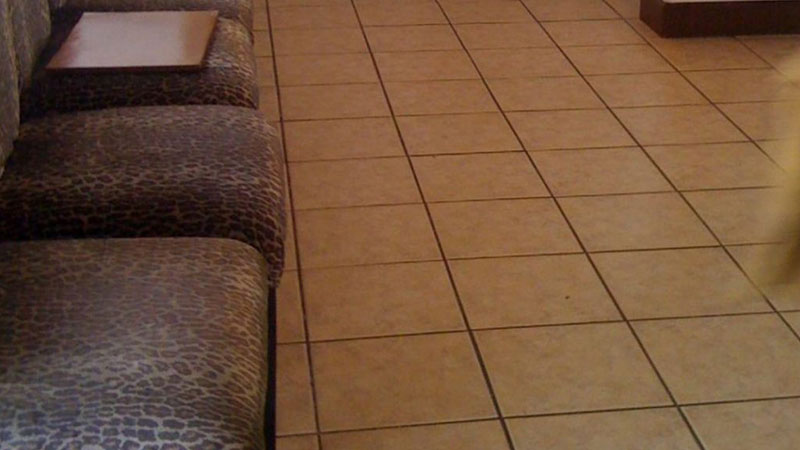 Are You Looking For A Better Way To Restore Your Tile Floor?
With Semco resurfacing products, you can restore and resurface your old tile without having to remove it. No demolition necessary. The Semco tile restoration solution is simply applied over the tile and you have a new surface in half the time. Semco can accomodate both interior and exterior tile flooring on patios, pools and more. The hassle and headache of retiling your bathroom, living area, patio or even office or commercial building is gone with the Semco system.  The Semco floor tile resurfacing solution comes in a variety of colors and decorative possibilities. Most coating systems are meant to be applied to existing concrete only and will not bond to tile, especially in a shower but Semco stays bonded to tile forever. It is a perfect ceramic tile refinishing system. Or, it can be applied to porcelain tile, Saltillo tile or mosaic tile.
After Semco Tile Resurfacing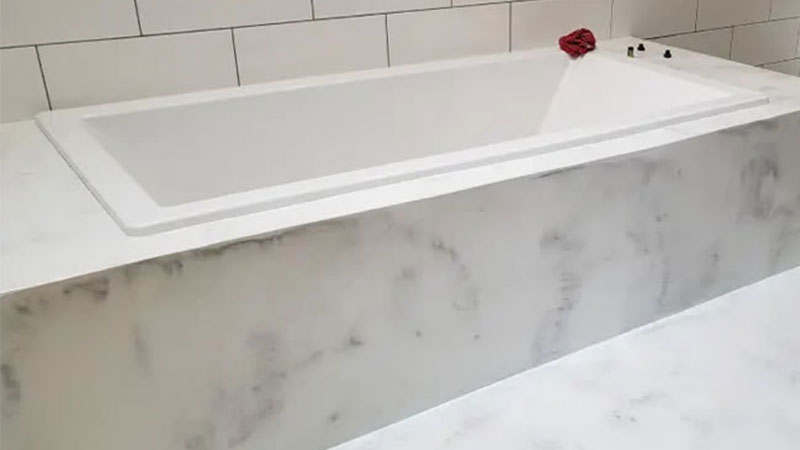 Floor Tile Resurfacing With X-Bond Seamless Stone
Recently, the Semco Remodel without Removal with X-bond Seamless Stone was used to resurface the tile of the Bay Residence in Miami FL. Watch the video to learn how easy it is to resurface old tile with Semco surface solutions.
Floor Tile Resurfacing
Let's face it. A lot of tile colors and designs, especially those from certain eras, are hideous and ugly. Is old and ugly tile ruining your interior or exterior decor? Tired of that pink colored tile in the bathroom? Resurface it with Semco Remodel without Removal and get a beautiful floor that you can match to your other decor. The Semco system comes in a nearly unlimited variety of colors and polishes. And you can even create designs and patterns with ease.
The Semco system features waterproof and chemical resistant surfaces. Additionally, Semco flooring solutions can be engineered for non-slip ADA Safety flooring and meet and exceed all ADA flooring requirements.
Non Slip Tile Solution For ADA Compliance
Making tile floor non-slip can be a challenge. With the Semco tile resurfacing solution, you can create a seamless stone surface with ADA compliant anti-slip protection. Great for use in commercial kitchens, pool decks and other moisture prone heavily trafficked areas. Improve the slip resistance with a range of textures and patterns. You can create a stamped concrete look, multi-colored "salt and pepper" look, or concrete finish. This system is often used for pool deck resurfacing and can be applied to cool deck in addition to tile.
Residential And Commercial Tile Resurfacing Applications
Whether you want to cover that old tile in your home's bathroom during a remodel or need a solution for a commercial kitchen, Semco's X-Bond seamless stone tile resurfacing materials has you covered. Unlike other tile overlay and resurfacing products like epoxy, X-Bond is designed for water based applications and is even used in pools and pool deck applications. It adheres at the molecular level to the tile surface and creates an actual mechanical bond with the old tile, ensuring long lasting durability.
Does Your Tile Need To Be Resurfaced Or Refinished?
Tell us a bit about your tile floor resurfacing project and we can help you find the right solution for your needs.
Resurfacing for Tile, Concrete, Hardwood, Epoxy + more!
Semco Florida's solid surface solutions product line includes four distinct surface treatment systems applicable to a variety of environments and needs. Semco's Remodel Without Removal is a resurfacing product that allows you to remodel existing surfaces without having to remove the old surface material. The remodel without Removal system can resurface tile and grout, stone, wood, concrete, vinyl, epoxy and more.