Concrete Wall Finishes
Crack-Resistant, Beautiful, Low-Maintenance Concrete Wall Finishes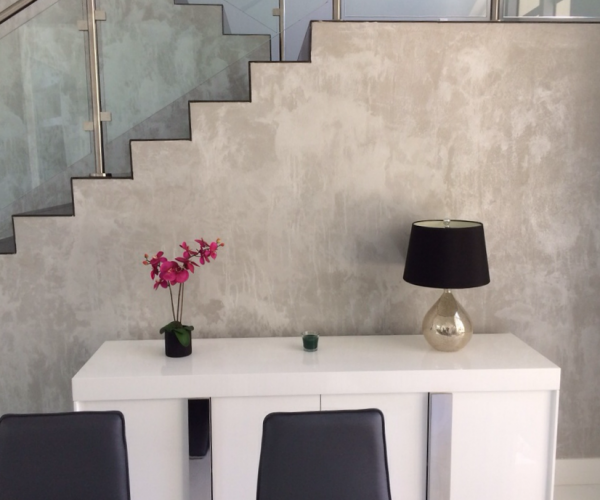 Challenge With Conventional Concrete On An Exterior Wall:
Normal concrete is very porous and will absorb water and get moldy.
The sealers used on concrete require maintenance and they change its color and look.
Exterior concrete must be waterproofed. they often require an expensive rainscreen.
most faux concrete finishes on the market do not hold up well in exterior applications
Advantages
Waterproof
No mildew growth
Impact resistant
Seamless floor to wall transitions
Aesthetically versatile
Cleaning And Maintenance
You can easily clean Semco's concrete wall finish with a pH neutral soap such as Semco's Stone soap. it can withstand most harsh chemicals. the beauty is that you don't need harsh chemicals to clean it because of its low porosity.
Semco's concrete wall finishes offer the beauty of concrete without its common downsides. 
Challenges With Concrete On An Interior Wall:
it is impractical and expensive to pour real concrete on an interior wall.
When concrete is formed vertically it is very challenging to get a smooth finish.
vertical concrete formwork is almost always visible. it is very hard to grind it out to achieve a consistent finish.
Natural concrete tends to have inconsistent color and must be stained and polished after it has cured.
most faux concrete finishes do not have high durability and will quickly show wear and impact
You can rarely use Faux concrete finishes in wet areas
Creating A Concrete Finish With Semco
The Semco concrete wall finishes system can be easily applied to the following interior and exterior surfaces:
Painted or primed drywall
Brick
Stone
Stucco
Cement board
Exterior Sheathing
Plywood
you can apply Our concrete wall finish on the floor as well. This makes it one of only a few building products that can be put on both the floor and wall. Also, it is waterproof and highly durable allowing for high traffic impact. This allows you to have the same finish finish in interior, exterior, horizontal, veertical, wet areas, and exterior areas. basically, you can apply semco's concrete finish on any solid surface on your property.
Looking for concrete block waterproofing?
Best waterproofing for concrete block solution, also ideal for inside basement concrete block walls. Check out this link.
Resurfacing for Tile, Concrete, Hardwood, Epoxy + more!
Semco Florida's solid surface solutions product line includes four distinct surface treatment systems applicable to a variety of environments and needs. Semco's Remodel Without Removal is a resurfacing product that allows you to remodel existing surfaces without having to remove the old surface material. The remodel without Removal system can resurface tile and grout, stone, wood, concrete, vinyl, epoxy and more.