Waterproofing Membrane
Liquid Membrane™ Waterproofing Membrane
Waterproofing Membrane Liquid, Waterproofing Membrane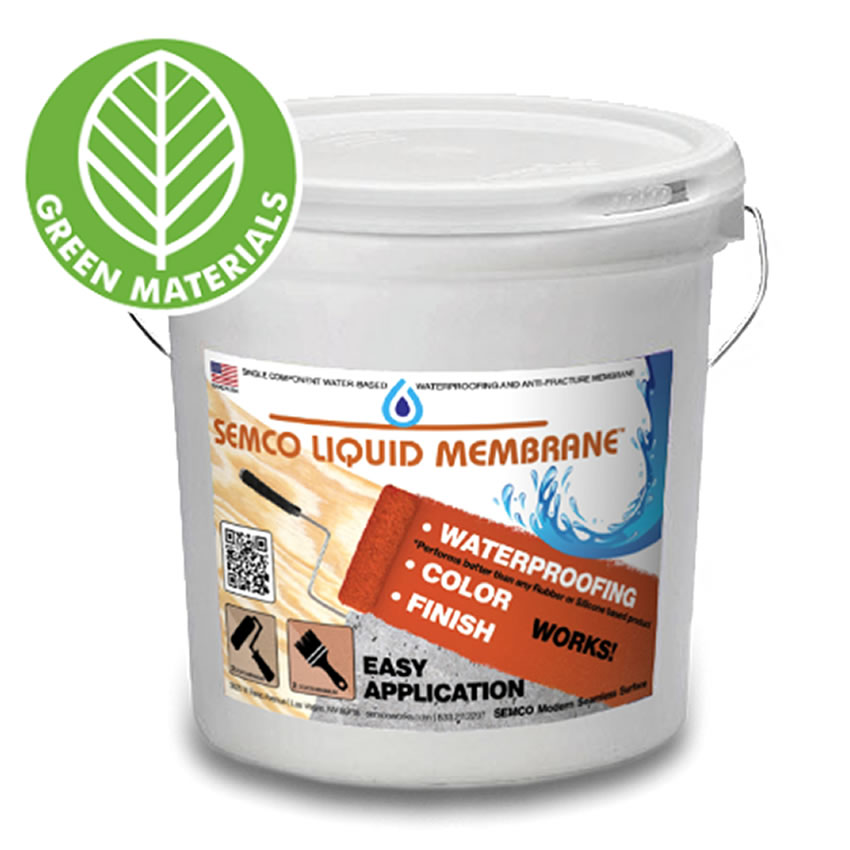 Waterproofing Membrane is a great product to use for liquid waterproofing membrane for showers and exterior balcony. It is easy to apply, has excellent adhesion properties, dries quickly, and is UV resistant. It will not yellow or crack over time. Waterproofing Membrane is also seamless, meaning it will stop water intrusion. Whether you are applying it horizontally or vertically, Waterproofing Membrane will do the job.
Call Semco today and ask about Waterproofing Membrane for your next project!
Liquid Waterproofing Membrane
Waterproofing is one of the most critical applications for any surface. This is true for roof decks, bathrooms, showers, pools and many other applications. Semco's integral waterproofing system has been tested under extreme conditions to be able to withstand water pressure even while being physically stretched. These properties allow the underlying performance to work while the surfaces aesthetic beauty is maintained.
Applications
Liquid waterproofing membrane for showers
Liquid waterproof membrane on exterior balcony

waterproofing

 

concrete water sealer
Concrete
Plywood
Stone
Concrete Block / Cinder Block / Block Walls
Exterior/ interior cladding
Residential, industrial and commercial
Prevent water intrusion through any floor or wall. It is easy to apply, has excellent adhesion properties and dries quickly. Waterproofing Liquid Membrane can be used on most surfaces including concrete, masonry, stone, glass, metal and more. It is also UV resistant and will not yellow or crack over time.
Features
Seamless waterproofing
Both vertical and horizontal
Waterproofing while bridging cracks
Provided in any color
Liquid form and fabric form
Benefits
Stops Water Intrusion
Seamless Waterproofing Application
Applied in Liquid Form or Fabric Form
Bridges and Stops Water Infiltration Through Cracks
Maintains the Aesthetic Beauty of The Surface
Liquid Membrane
WHY SEMCO LIQUID MEMBRANE™?
For over 25 years, SEMCO has been developing a line of surfacing products designed to meet the diverse needs of our clients. Our clients wanted a product that streamlined the waterproofing process, offered the durability and strength to stabilize concrete, cement board, wood substrates, and also function as a waterproof adhesive. Unlike many products on the market that only accomplish one or two of these requirements, our goal was to create a single, high-performance solution that could meet all of them.
That "one source" solution is: "SEMCO LIQUID MEMBRANE™"
The SEMCO Liquid Membrane™ is a single component water-based waterproofing and anti-fracture membrane. It is a self-contained elastomeric fluid suspended in a copolymer adhesive, this revolutionary blend enables easy application while providing excellent bridging, and waterproofing.
Concrete Block Waterproofing
Concrete block is very porous and water and moisture can pass directly through it like a sponge. It is a simple process to apply Liquid Membrane to stop water transfer and improve the performance of interior and exterior block walls.
Tags: waterproofing, waterproofing membrane, basement waterproofing near me, concrete water sealer, liquid waterproofing membrane, moisture barrier
Concrete Balcony, Patio Or Exterior Slab Waterproofing
Balconies and patios are prone to leaking and a proper waterproofing solution can solve a an array of water related problems. This is particularly the case where the floor meets the wall. It is critical to cove up a the floor to wall joint using anti-fracture fabric and our Liquid Membrane. The surface has to be properly cleaned so that it is free from dirt, grease and efflorescence. The product should not be applied when the surface temperature exceeds 90 degrees and the surface should be fully dry.
Resurfacing for Tile, Concrete, Hardwood, Epoxy + more!
Semco Florida's solid surface solutions product line includes four distinct surface treatment systems applicable to a variety of environments and needs. Semco's Remodel Without Removal is a resurfacing product that allows you to remodel existing surfaces without having to remove the old surface material. The remodel without Removal system can resurface tile and grout, stone, wood, concrete, vinyl, epoxy and more.