Concrete Resurfacing And Refinishing
Resurface and Refinish old concrete Without Removal.
Concrete Refinishing And Resurfacing With X-Bond Seamless Stone
In this video the Semco Remodel without Removal with X-bond Seamless Stone is used to resurface the concrete and tile of the Argentina Restaurant. Watch the video to learn how easy it is to resurface old concrete with Semco surface solutions.
Does Your Concrete Driveway, Room Or Sidewalk Need To Be Resurfaced Or Refinished?
Tell us a bit about your concrete project and we can help you find the right solution for your needs. The Semco resurfacing system is great for all types of concrete surfaces, interior and exterior, from sidewalks and pooldecks to garages and driveways.
Concrete Resurfacing And Refinishing
concrete resurfacing is a way to save money and restore concrete surfaces. Are you letting old, damaged and stained concrete ruin your home or business's curb appeal? Do unsightly cracks in your commercial concrete floor create both an eyesore and safety hazard? Before you go and hire a concrete removal company to demo your concrete driveway or other surface, consider resurfacing your concrete driveway, sidewalk, pool deck or other surface area with concrete resurfacing products. Concrete resurfacing saves time, money and the environment and allows you to create beautiful decorative concrete designs in the process.
Save Money With Concrete Refacing Products
Demo and removal of old concrete can cost anywhere from $4-$10 a square foot and even more depending on the depth of the concrete, the area it needs to be removed from and whether plumbing and utilities lines are involved. Resurfacing, on the other hand, completely removes this expense from the process. Concrete resurfacing products like Semco's X-Bond Seamless Stone Surface and Remodel without Removal systems are designed to repair concrete cracking and bond to the old surface at the molecular level, creating a seamless surface finish in the color and design of your choice, without any demolition.
Does Concrete Resurfacing Last?
Anything that promises to be cheaper automatically raises the suspicion that it is lower quality and does not last. This is an understandable concern and it holds with a lot of products. However, Semco's concrete coating will not only last as long as new concrete, it is designed to last longer without cracking or wear. Semco surfaces were originally designed to handle high traffic areas and withstand the elements of sun, water and salt of Florida. Most concrete resurfacing lasts anywhere from 8 to 10 years before it needs any attention.
Decorative Concrete Refinishing And Overlay
Concrete refinishing is about beautifying your old concrete driveway, sidewalk or garage. The Semco decorative concrete overlay system allows you to create stunning concrete surfaces in no time. Give your driveway or sidewalk a touch of life with a full range of colors polishes and finishes.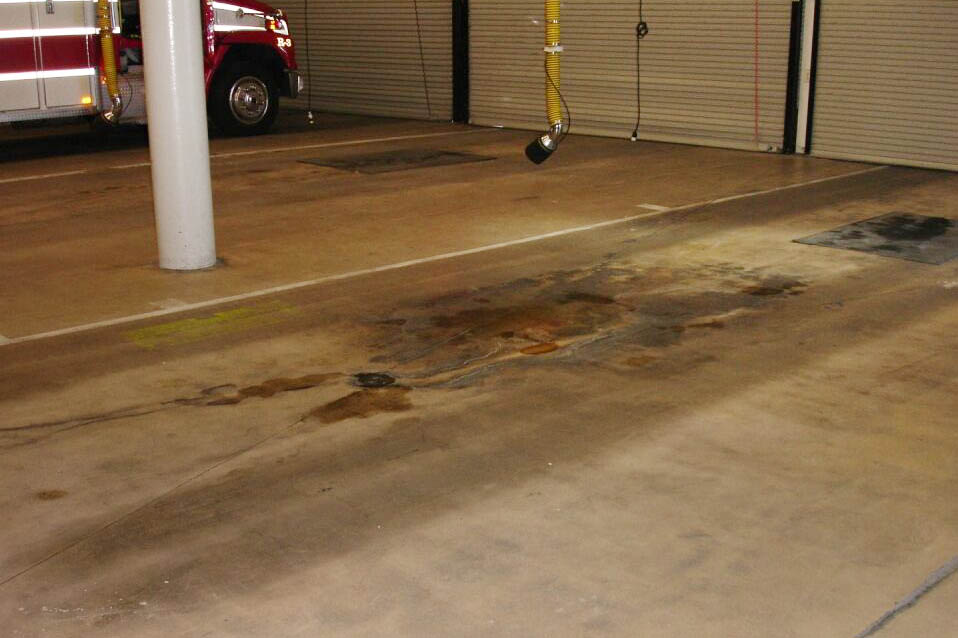 Cement Microtopping Vs Resurfacing Vs Concrete Overlay
In searching for a concrete and cement resurfacing product  you may have come across a number of poorly defined terms. This can make your search a lot more difficult. You may be wondering if there is any difference between concrete and cement resurfacing products, concrete microtoppings and concrete overlays. There is the quick answer: there is not much difference. Then there is the more detailed answer.
The more detailed answer is that included in the term "concrete resurfacing" are both microtopping solutions and overlays. A microtopping is a type of overlay that is a thin layer of material applied on top of concrete. Microtoppings are generally used in interior resurfacing settings, whereas overlays are more generally used in exterior settings.
Microtoppings are a special category of overlay that are applied in thin coats to interior floors with the primary purpose of freshening them up. They can be customized and colored to match decor and provide an easy and durable solution for worn out interior concrete.
Concrete overlays are generally used outdoors, or in interior settings, like garages, that need a more durable and damage resistant resurfacing solution for concrete.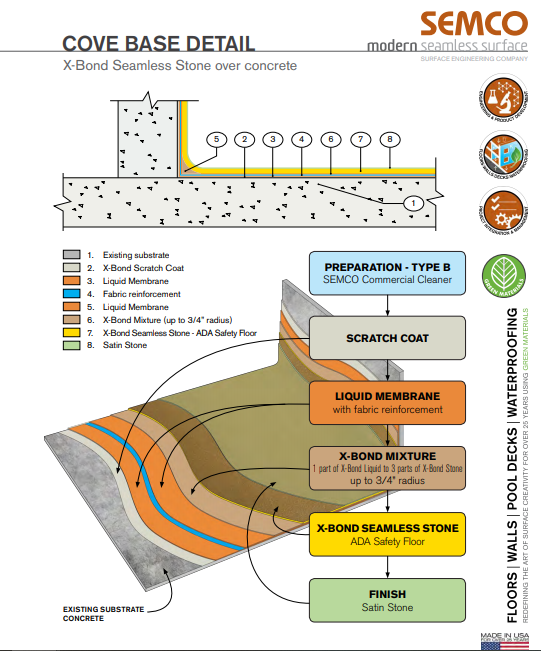 The Semco Difference
The Semco system is a universal resurfacing product that has applications specially suited to concrete surfaces in both exterior and interior locations. The Semco resurfacing solution is highly adaptable to any solid surface. Depending on your needs, it is used as a microtopping or an overla, mixed and applied to the needs of the surface. The Semco system requires no grinding, no chemical removal, no sandblasting – no demolition of any kind. In addition, it is waterproof so you can use it in areas like bathrooms, showers, pool decks and even inside pools.
Resurface Concrete Without Removal Or Demolition
The main advantage of the Semco system is its ability to repair concrete cracks to the extent that the substrate can be salvaged and there is no need for demolition or an entirely new concrete slab. This reduces both cost and environmental damage that accrues due to demolition and the removal of waste.
Looking for concrete block waterproofing?
Best waterproofing for concrete block solution, also ideal for inside basement concrete block walls. Check out this link.
Frequently Asked Questions About Concrete Resurfacing In Florida
All things wear out over time. Even concrete surfaces succumb to the ravages of time and erosion of water, wind and even the sun. The sun and salty air in Florida take an especially heavy toll on concrete surfaces. Before you go ripping up your concrete slab, consider Semco's concrete topping solution to return old concrete to new life. Below we answer a few common questions about resurfacing concrete in Florida.
1. WHAT IS CONCRETE RESURFACING?
It is an affordable alternative to concrete removal and demolition. Instead of ripping up an entire concrete slab and pouring new concrete, concrete resurfacing treats the top layer of concrete. In concrete resurfacing, minor cracks and damage are repaired and filled and a new top surface is applied called a concrete overlay. The concrete overlay bonds to the original concrete substrate at the molecular level making it strong and durable.
2. HOW MUCH DOES CONCRETE RESURFACING COST?
The cost of applying a concrete resurfacer depends on a number of factors including size of area to be resurfaced, ease of access, whether it is interior or exterior concrete. But it is always considerably cheaper to resurface your concrete than to remove and replace it.
3. WHEN IS THE BEST TIME TO RESURFACE CONCRETE?
There is no agreed upon "best time" to resurface your concrete. Any exterior concrete work should be done in dry conditions and above freezing temperatures. These two requirements are dependent upon your location.
4. HOW LONG DOES CONCRETE RESURFACING LAST?
It will last as long as the concrete that it overlays. The special molecular bond that is created between the concrete substrate and the new concrete overlay ensures that there is a seamless continuation of structure from concrete to bond to resurfacer.
5. WHAT DOES CONCRETE RESURFACER LOOK LIKE?
Some concrete resurfacing looks the same as the original concrete, others , like Semco's X-Bond Seamless Stone come in a variety of polishes, and colors for you to choose from.
6. CAN YOU RESURFACE A DRIVEWAY?
Of course! And it can be done decoratively too. Driveway resurfacing is a great alternative to concrete demo and removal. No need to rip up old concrete. And the time required for concrete resurfacing is far less than the days and weeks that it sometimes takes to remove, pour, set and dry a new concrete driveway.
7. CAN YOU RESURFACE CONCRETE FOR ADA COMPLIANCE?
You sure can. With Semco ADA Safety Flooring, you can make your concrete surface ADA compliant for pool decks, sidewalks and more.
8. SHOULD I RESURFACE MY CONCRETE FLOOR?
It depends on the state of the concrete. If the concrete is badly damaged, sinking due to foundational issues, concrete replacement might be the best choice. But if the cracks are minor, then resurfacing is a much better bet.
9. DOES CONCRETE RESURFACER COME AS A DECORATIVE CONCRETE OVERLAY?
Yes! With Semco resurfacing products, you get a variety of colors, polishes and finishes to choose from. And you can even use the colors and finishes to create decorative designs and patters on you concrete surface.
10. HOW DO I GET STARTED?
If you are interested in resurfacing your concrete driveway, garage, walkway or sidewalk, pool deck or other area, Semco FL can help you get the right resurfacing solution for your project. Contact us to get started on your new concrete surface. We look forward to hearing from you.
Tags: best waterproofing for concrete block, concrete block waterproofing, waterproofing concrete block walls inside, waterproof paint for concrete block walls, exterior concrete block wall waterproofing, concrete block wall waterproofing, waterproofing concrete block foundation, waterproofing cinder block, sealing exterior cinder block walls, cinder block basement waterproofing,cinder block waterproofing
Resurfacing for Tile, Concrete, Hardwood, Epoxy + more!
Semco Florida's solid surface solutions product line includes four distinct surface treatment systems applicable to a variety of environments and needs. Semco's Remodel Without Removal is a resurfacing product that allows you to remodel existing surfaces without having to remove the old surface material. The remodel without Removal system can resurface tile and grout, stone, wood, concrete, vinyl, epoxy and more.