Garage Floor Resurfacing And Refinishing
Resurface and Refinish Commercial and Residential Garage Flooring Without Removal.
Garage Floor Resurfacing And Refinishing
Are you considering garage floor resurfacing? Is your commercial or residential garage floor uneven and cracking, stained, oily, pitted and just plain ugly? Before you think about breaking up the concrete and repouring a new garage floor, consider resurfacing first.
What Is Garage Floor Resurfacing?
It is simply a process that involves cleaning, repairing and overlaying an old and damaged garage floor with a new garage floor surface. The new surface is typically a garage floor coating that adheres to the old surface at the molecular level, creating a a strong, seamless surface coating for your garage. The Semco Garage floor resurfacing system uses the X-Bond Seamless surface solution to ensure durability under high traffic conditions.
Commercial Garage Floor Resurfacing
Commercial garage floors take a lot of abuse and are highly trafficked. Any commercial garage resurfacing coating needs to be able to withstand the chemical exposure, constant traffic and be resistant to damage in the form of cracks and pits that can happen result of large equipment, tools and other metal objects impact the surface regularly. The Semco garage floor resurfacing solution is designed to endure the tough conditions of the commercial garage.
The Semco garage floor resurfacing solution uses X-Bond Seamless Stone which can be enhanced to withstand 10,000 PSI if needed. This is more than enough for most commercial garage flooring needs.  The X-Bond Seamless stone garage flooring solution is chemically resistance to acids and other chemicals and the protective barrier keeps it waterproof and stain resistant. Semco makes the garage resurfacing process easy with minimal disruption to your daily business activities.
Residential Garage Floor Resurfacing
Are you tired of looking at your old garage floor? Is your garage floor ruining your homes value? The stains and pits, the cracking and other damage is not only an eyesore, it can cost your money and even be safety hazard. The Semco garage floor resurfacing system is perfect for residential applications. Before you demolish and repour a new garage floor, you should consider resurfacing. The Semco system can repair and bridge cracks and resurface your garage with minimal disruption to daily activities. With Semco, you can even add decorative polishes and finishes. The Semco system comes in a variety of polishes and finishes to fit any style palette.
Semco Was The Best Garage Flooring Solution
The administrator of the project originally considered epoxy coatings and paint and concrete overlayment, but these solutions proved to be unsuited to the task. Epoxy is not UV resistant and it prevents vapor transmission, which can lead to surface deterioration.  Another problem is that epoxy requires that the surface be ground down prior to application. Overlayment systems lacked the impact resistance and strength needed for a large commercial garage flooring application. The project manager decided on the Semco system to solve all of these problems with one easily applied garage resurfacing solution.
Garage Resurfacing Solution
X-Bond Seamless Stone was used to resurface the station garage. One of the issues that needed to be resolved was the unpredictable schedule of the firestation. They needed a surface solution that could be easily and quickly applied to reduce disruption to vitally important fire and rescue efforts. The Semco solution proved to be the perfect solution with its quick drying application. The garage floor was quickly resurfaced and the fire station was fully operation in no time.
The city was so pleased with the Semco garage floor solution that it contracted to have Semco applied to garages and bathrooms in several of their fire and rescue stations.
Commercial Garage Floor Resurfacing Case Study: Las Vegas Fire And Rescue Station 3
Recently, the garage floors at the Las Vegas Fire and Rescue Station 3 was in desperate need of garage floor resurfacing. The garage floors at the station were stained, cracked and worn. The fire station need a garage flooring solution that would be able to handle the heavy traffic and loads of a fire station garage. The fire station chose the Semco garage floor solution due to the fact that it met both coefficient of friction requirements and surface strength needs. (10,000 PSI). An added benefit was the chemical resistant nature of the X-Bond Seamless Stone Surface which would reduce staining and corrosion.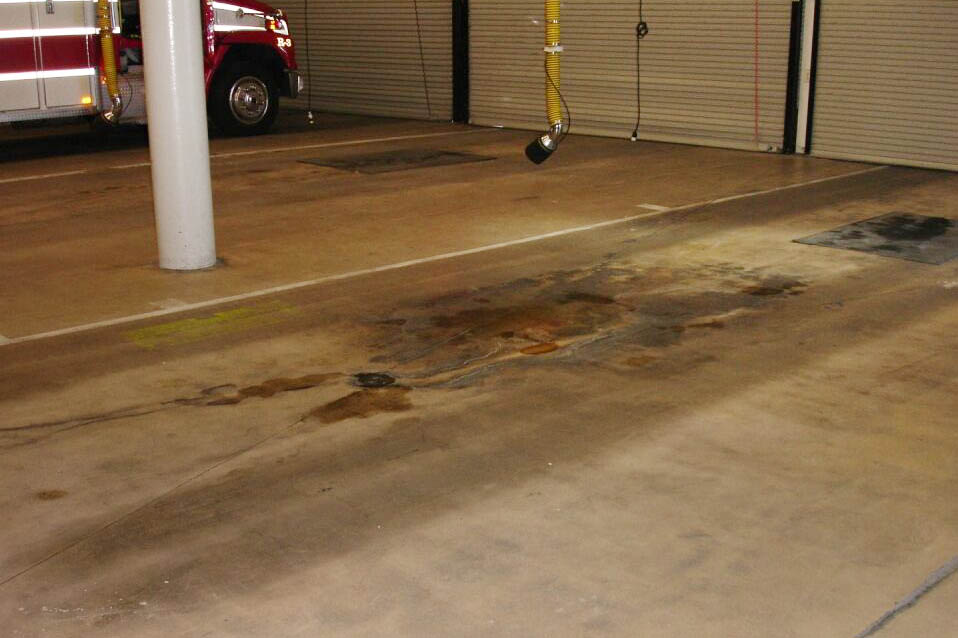 Resurfacing for Tile, Concrete, Hardwood, Epoxy + more!
Semco Florida's solid surface solutions product line includes four distinct surface treatment systems applicable to a variety of environments and needs. Semco's Remodel Without Removal is a resurfacing product that allows you to remodel existing surfaces without having to remove the old surface material. The remodel without Removal system can resurface tile and grout, stone, wood, concrete, vinyl, epoxy and more.