Flexible Waterproof Membrane
Breathable & Chemical Resistant
X-Bond Seamless Stone
Resurfacing made easy: creates chemical bond at the molecular level to any solid surface.


X-Bond Seamless Stone Microcement Seamless Surface Solution Without Demolition
AN incredibly rugged and beautiful 1/8″ thick overlay system that can be applied to tile, concrete, wood, stone and much more.X-BOND Seamless Stone features mechanically interlocking molecular engineering that allows it to be applied to any solid surface without having to remove the old material. The seamless stone finish creates a stunning aesthetic that is both beautiful and durable.
Made of ZERO VOC natural stone hybrid, SEMCO X-Bond seamless stone is a environmentally friendly.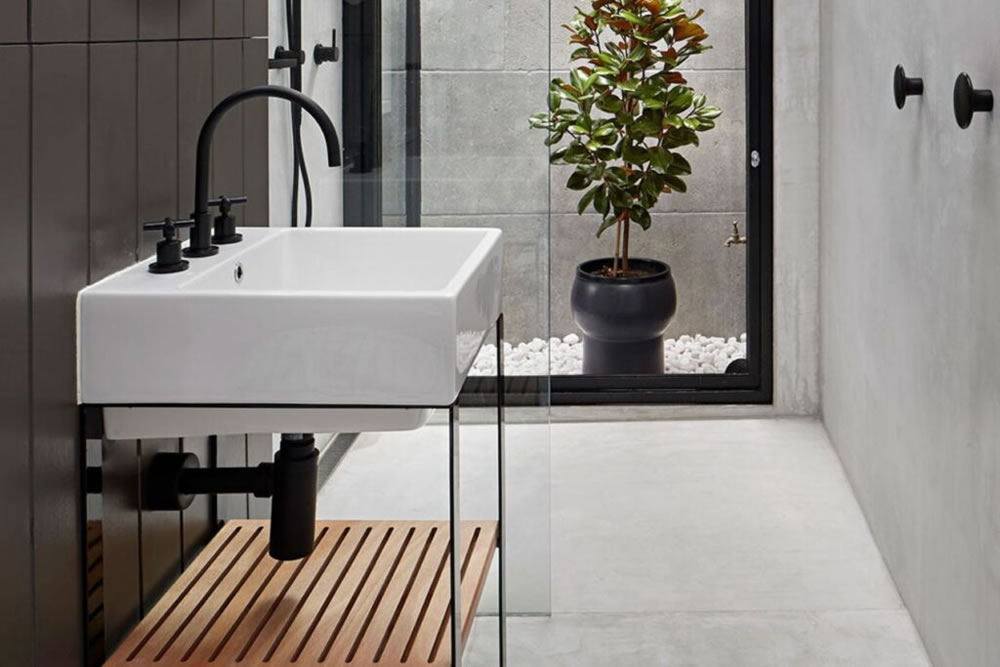 Mechanically Interlocking Molecules
The key to the success of any surface is the method in which it connects with a subsurface. SEMCO's X-Bond Seamless Stone forms a mechanically bond, while interlocking its own molecules to the surface it is applied creating a "Perfect Bond".
Surface Strength
Surface strength is relative based on need. X-Bond Seamless Stone principle strength is 27 MPa (4,000 PSI) while still retaining flexibility. However to meet all conditions; X-Bond Seamless Stone can be enhanced to meet or exceed 70 MPa (10,000 PSI).
Breathable and Chemical Resistant
Changes in the environment affect all surfaces, the need for a surface to allow vapor transmission is crucial for ongoing adhesion and performance. While vapor transmission protects the unseen surface, the visual surface of the X-Bond Seamless Stone reinforces its quality by being resistant to the caustic strain of acids, to the penetrating qualities of low viscosity liquids.
Flexible Waterproof Membrane
Exceptional pliable strength/ modulus of rupture coupled with SEMCO's specially formulated stone system creates a surface that can withstand the rigors of moving substrates while still being 100% waterproof.
Polished Bond
The SEMCO Polished Bond Texture uses the SEMCO Color Bond to create rich and vivid finishes. It is designed to create multiple color variations within itself. Suitable for floors and walls. Great for commercial and residential applications.
Natural Grain
The SEMCO Natural Grain Texture creates a vibrant and moving surface, unseen by any other material. Suitable for floors only. Great for commercial and residential applications.
Color Bond
The SEMCO Color Bond Texture creates a smooth and seamless surface. A generally solid color with very slight variations. Suitable for floors and walls. Great for commercial and residential applications.
How X-Bond Seamless Stone Works?
X-Bond Seamless Stone is a zero VOC hybrid of natural stone and advanced cross-linking technology. It mechanically interlocks molecules of the X-Bond Stone to any solid surface enabling Remodel without Removal™.
X-Bond Seamless Stone
Systems
Remodel Without Removal™
With SEMCO's unique REMODEL WITHOUT REMOVAL™ system you can remodel any solid surface without the cost, inconvenience and potential environmental damage associated with the removal of the existing surface. SEMCO surface engineers have perfected this method through the use of the X-Bond Seamless Stone, which chemically adheres to any existing surface. This system saves clients time and cost on their projects, while offering significant GREEN benefits.
ADA SAFETY FLOOR
SEMCO ADA Safety Floor is engineered to assist in remodeling projects which is require ADA compliance in Coefficient of Friction (slip resistance), Surface Slope Regrading, and Surface Aperture Closure.
How
X-Bond Seamless Stone

Works?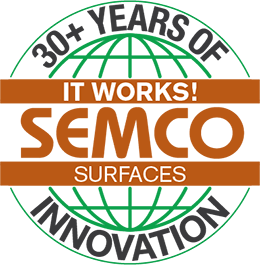 Redefining the art of surface creativity for over 30 years using GREEN Environment Safe materials.
Ready to take your resurfacing needs a step further?
Let's start talking about your project or idea and find out how we can help you.