Tile Resurfacing Near Me
Restore & Resurface Old Tile Without Removal
Are you letting old, stained or out of date tile flooring ruin your interior décor? We don't blame you. Replacing old tile floors can be a real hassle and really expensive. It may be time to consider tile resurfacing instead. Here's a few points why tile resurfacing may be the best choice:
There is the cost of removing the old tile
The dust, the dirt
The hammering the drilling
The cost of disposal
Deciding on the type of tile you want can be cumbersome
The days long process of laying the mortar
Setting the tiles and applying the grout
All of these take much time, which means that your area is off limits for a considerable amount of time.
New tile can create a variety of issues with transitions to doorways, cabinets and you will have to remove any moldings. And the bigger the surface that needs to be retiled, the bigger the headache. New tile still requires regular grout cleaning and tile repair is tricky if you can't find another identical piece. In order to avoid having to remove and then retile their flooring, many people simply try to hide old and ugly tile under rugs or use tile refinishing kits or paint to try to obscure ugly and old tile. These solutions only go so far, and they rarely last. Tile resurfacing save time and money, looks great and lasts!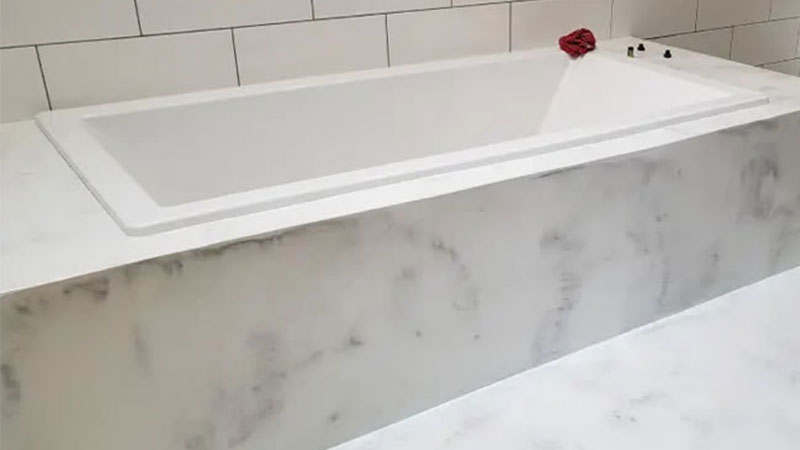 After Semco Tub & Tile Resurfacing
Restore and Resurface old Tile Without Removal. Tile Resurfacing Near Me
Before Semco Tub & Tile Resurfacing
Before Semco Tile Floor Resurfacing
After Semco Tile Floor Resurfacing
Before Semco Tile Resurfacing
After Semco Tile Resurfacing
Tile Floor Resurfacing Near Me
Does Tile Resurfacing Work?
Whether tile resurfacing will work or not is dependent on the type of resurfacing materials and products you choose to use. The number 1 reason why resurfacing does not work is that the resurfacing materials used are of sub-par quality and do not create a strong bond with the tile surface. A good tile resurfacing product will have a molecular bonding technology that creates a mechanically interlocking bond.
Resurfacing for Tile, Concrete, Hardwood, Epoxy + more!
Semco Florida's solid surface solutions product line includes four distinct surface treatment systems applicable to a variety of environments and needs. Semco's Remodel Without Removal is a resurfacing product that allows you to remodel existing surfaces without having to remove the old surface material. The remodel without Removal system can resurface tile and grout, stone, wood, concrete, vinyl, epoxy and more.