Bathroom Tile Repair Using SEMCO's Revolutionary Tile Resurfacing Products
Bathroom Tile Repair Near Me
Bathroom Tile Repair Near Me
So you've been searching for "bathroom tile repair near me" for one of the following reasons:
Your shower wall or bathroom floor tile is cracked, delaminating or discolored.
Your grout is mildewed, in disrepair, or just plain smelly.
Your searching for "bathroom tile repair" but you really just want to update your tile with a fresh new look.
Your Tile And Grout Can Be Cleaned Or Repaired.
Some companies like RexPro even offer amazing tile sealers that stop any mildew or odor on your grout. Instead of sticking with your tile you may want to consider a facelift with Semco's tile resurfacing system. This technology is not to be confused with "tile refinishing." With refinishing, companies spray an epoxy paint that recolors your tile. This is not a permanent solution and you will still have grout indentations. It also doesn't hold up very well on the floor with foot traffic. The difference between Semco and epoxy or other high test paints is that Semco is a 1/8" thick microcement that fills in your grout lines and bonds to the surface of your tile. Here are some other benefits.
No demolition is required
Semco's tile resurfacing system allows homeowners and businesses to remodel their tile without the dusty and lengthy process of demolition and reinstallation of a new finish. Chipping off the old tile and installing new can also interfere with plumbing, drywall and electrical if not done correctly. The Semco system bonds so well to tile that it is even used underwater in tiled pools and fountains.
Modernize your space
Are you purchasing a new property or getting ready to sell? Either option is perfectly suited to modernizing bathrooms with Semco's speedy installation process. Add a seamless simplicity to the bathroom making it an elegant space that can add value to a property or cover up an outdated look. The available finishes can resemble polished concrete, Venetian Plaster, stone or marble.
Reduce maintenance
Everyone knows that grout absorbs water creating a place for bacteria to grow. In addition, it is hard to keep odor away around toilets because tile and grout absorb odor causing bacteria. Once this odor embedded in the grout even some of the toughest cleaners have little positive effect. The Semco system is easy to clean, has no grout and does not absorb liquid or bacteria as it is completely non-porous.
After SEMCO – Bathroom Tile Repair Near Me
Before SEMCO – Bathroom Tile Repair Near Me
Call Us Now For A Free Quote
If this sounds interesting send us a note or give us a call and we will set up a site visit. Your search for "bathroom tile repair near me" may just provide you with your dream bathroom!
Before Semco Bathroom Tile Repair Near Me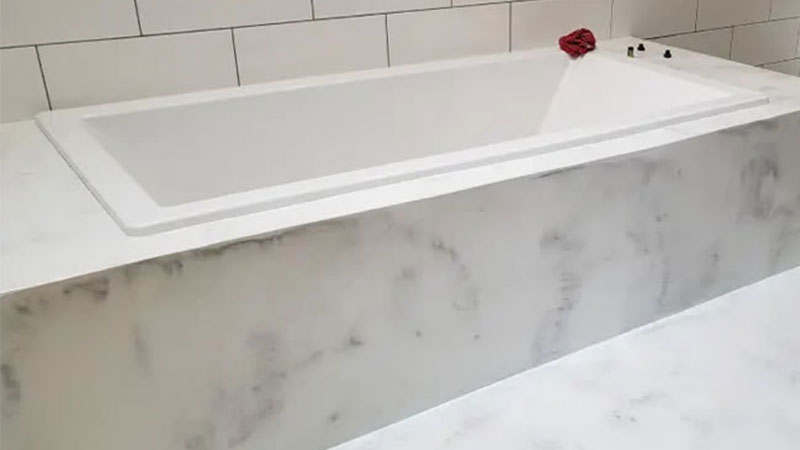 After Semco Bathroom Tile Repair Near Me
Before Semco Bathroom Tile Repair Near Me
After Semco Bathroom Tile Repair Near Me
Bathroom Tile Repair Near Me, Consider Tile Resurfacing Instead
Residential And Commercial Bathroom Tile Resurfacing Applications
Whether you want to cover that old tile in your home's bathroom during a remodel or need a solution for a commercial kitchen, Semco's X-Bond seamless stone tile resurfacing materials has you covered. Unlike other tile overlay and resurfacing products like epoxy, X-Bond is designed for water based applications and is even used in pools and pool deck applications. It adheres at the molecular level to the tile surface and creates an actual mechanical bond with the old tile, ensuring long lasting durability.
Tags: bathroom tile repair near me
Resurfacing for Tile, Concrete, Hardwood, Epoxy + more!
Semco Florida's solid surface solutions product line includes four distinct surface treatment systems applicable to a variety of environments and needs. Semco's Remodel Without Removal is a resurfacing product that allows you to remodel existing surfaces without having to remove the old surface material. The remodel without Removal system can resurface tile and grout, stone, wood, concrete, vinyl, epoxy and more.